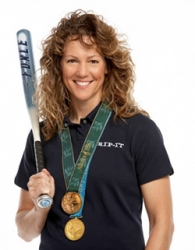 Orlando, FL, October 07, 2009 --(
PR.com
)--
3N2
recently announced a partnership with ESPN commentator and softball legend Michele Smith. Although Smith and 3N2 have maintained a working relationship since the summer of 2009, details of the partnership were only formalized in late September. Smith will serve as a senior advisor for 3N2's full line of
fastpitch softball cleats
and performance wear.
Smith is a two-time Olympic gold medalist for the United States National Softball Team and a full-time ambassador for the sport of fastpitch softball. She played 16 years in the Japan Pro Softball League, where she won 8 MVP awards and 8 league championships. Michele was recently selected as the Chair of the Athletes Ambassadors Committee by the International Softball Federation, charged with lobbying the International Olympic Committee to reinstate Olympic softball. In addition to being a softball commentator for ESPN, Michele tirelessly travels the globe to promote the sport that she loves, organizing and running softball teaching clinics, including a long-running coaching clinic in cooperation with Little League.
Michele speaks highly of her partnership with 3N2, stating, "I am proud to partner with 3n2 to help market and develop an already strong and cutting edge line of footwear and apparel. Development and growth of fastpitch softball has always been an important part of what I do and partnering with a young and growing company like 3n2 is a perfect fit for me and Michele Smith Fastpitch. The true benefactors will be the athletes who will use our products and will realize how they help improve their comfort and performance on the field."
Sean Murphy, CEO of 3N2, echoed Smith's sentiment, adding that, "There may be no greater authority in the world on fastpitch softball than Michele. Her depth of experience and understanding of the game are unrivalled and we are honored to have her as part of the 3N2 team."
About 3N2
3N2 maintains a singular focus on designing and developing the most durable and dynamic line of comfort-driven, performance-boosting baseball and softball cleats in the marketplace — footwear that elevates the games of players whether they're eight or eighty, Jack or Jill, a big leaguer or a t-baller.
Learn more at www.3N2Sports.com
###