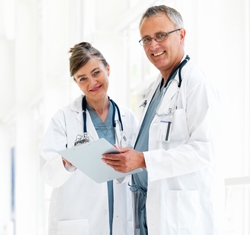 Chicago, IL, October 09, 2009 --(
PR.com
)-- HDI Technologies, a provider of healthcare and legal IT solutions, services, training and technical support in the Midwest, announced at the AHIMA Conference that it has entered into a strategic business partnership with Clear Medical Solutions, a healthcare consulting and staffing firm headquartered in Milwaukee, WI. The partnership offers healthcare providers across the Midwest access to health information management (HIM) professionals who can implement and run critical electronic health records (EHR), practice management (PM) and workflow optimization solutions and projects.
The partnership will provide interim leadership, consulting and on-site staff who are skilled in implementing award winning EHR and PM systems to improve clinical analysis, patient care and relationships. Together, HDI Technologies and Clear Medical Solutions will work towards alleviating the shortage of experienced professionals who can solve backlogs or general shortages in coding, transcription or leadership.
"We view this partnership as a win-win relationship as it provides superior technology, customized services and high-quality HIM professionals all dedicated to building a better healthcare system," said Tom Spees, CEO of HDI Technologies.
"With the advancement of EHR, voice recognition and computer assisted coding technologies, we believe the future of HIM is now," said Aaron J. Biebert, President and CEO of Clear Medical Solutions. "We are extremely pleased to partner our HIM leadership and staffing solutions with the technologies available through such a progressive technology partner like HDI Technologies. The right technology combined with the right people who provide assistance with project implementation means a more helpful and less stressful plan for upgrading an otherwise strapped department. We believe the partnership will be magical."
About HDI Technologies
For more than 17 years, HDI Technologies, Inc. has offered healthcare and legal practices the latest, cutting edge information technology solutions and provided dedicated, knowledgeable and experienced sales, installation, training and support personnel. HDI Technologies brings an innovative team approach to clients across the Midwest. For more information, please contact Tom Spees at 773.275.2121 x17 or tspees@hditech.com.
About Clear Medical Solutions
Clear Medical Solutions provides health systems, hospitals, clinics, and long term care facilities with solutions to challenges that they face every day. In some cases these solutions have included interim management, consulting, staffing, and outsourcing, as well as other creative solutions to healthcare industry challenges. To find out more about Clear Medical Solutions, please go to www.ClearMedicalSolutions.com or email HIM@ClearMedicalSolutions.com.
###