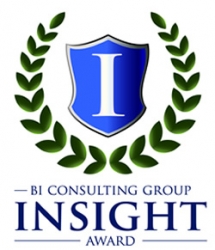 Minneapolis, MN, October 14, 2009 --(
PR.com
)-- BI Consulting Group announced today the winners of the 2009 BICG Insight Award. Honorees include the Lower Colorado River Authority (LCRA), PNC, and Motorola. The BICG Insight Award recognizes excellence, innovation and creativity in the areas of business intelligence (BI) and enterprise performance management (EPM).
Recipients of the BICG Insight Awards www.biconsultinggroup.com, www.pnc.com are evaluated by a panel of judges based on criteria that included user adoption, return on investment (ROI), complexity, and innovation. Representing a variety of industry verticals and geographic markets, the winners demonstrate best practices in business intelligence and enterprise performance management.
In conjunction with Oracle OpenWorld, honorees will be formally presented their Insight Award trophies at a happy hour hosted by BI Consulting Group. San Francisco's Ponzu Lounge serves as host for this event on Monday, October 12th. All friends of BICG and the award winners are welcomed to attend.
Oracle OpenWorld 2009 runs from October 11th through October 15th, in San Francisco, CA. Oracle OpenWorld features more than 1,800 educational sessions, 400 partner exhibits, keynote speeches from the world's technology leaders, hands-on labs, networking events, and more.
About BI Consulting Group
BI Consulting Group (BICG) is Oracle's premier consulting partner focused exclusively on Oracle Enterprise Performance Management (EPM) and Business Intelligence (BI). Service offerings include consulting services, support, and education. The experts at BI Consulting Group have successfully completed some of the most complex implementations of Oracle BI in the world. Along the way, BICG has been honored with Oracle Excellence Award, for the creation of innovative and standards-based technology solutions, and the Oracle Innovation Award as the Oracle BI/EPM Implementation Partner of the Year. BICG has also been named the #1 consulting firm for customer satisfaction by VendorRate.
www.biconsultinggroup.com
.
###