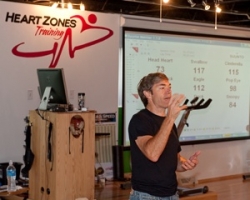 Pittsburgh, PA, October 16, 2009 --(
PR.com
)-- Since training with power meters hit the professional circuit, there has been a steady "trickle down" effect to the rest of the cycling community. Because they still represent a considerable investment to training, these options are generally only used by competitive cyclists. The training and interpretation of results are also not for the recreational rider. The entire field has its own vernacular with terms like Coefficient of Drag (CdA), Normalized Power, Critical Power, Functional Power, Maximal Accumulated O2 Deficit (MOAD), etc.
Nevertheless, there is recognition that this is the most productive way to improve performance, so there is a continual effort to bring this to as many cyclists as possible. This lead to power finding its way into the indoor market with the latest bikes designed for group cycling. There have been few innovations in recent years, but with the spate of bikes on the horizon in 2010, everything is about to change.
"Three years ago when I opened Global Ride Training Center, I could only find 2 manufacturers that offered bikes with power. Now there are at least 6 on the market. These bikes have heart rate monitors built in as well, so training tools are finally making their way indoors." Said Gene Nacey, founder of Cycling Fusion, a new system for training outdoor cyclists with indoor tools.
This is great news for cyclists, even recreational riders, since power training will do more to help bicyclists than any other tool in their arsenal for one important skill; hill climbing. Even though many participants of indoor classes do not ride outside, their desire to improve their fitness, gain strength, and lose weight is generally universal. The one thing that holds them back though, is that bikes without power meters have no gauge or indicator to show how much resistance they are putting on the wheel. As a result, indoor riders can put in hours of Spinning® each week, and see little to no increase in strength or power (pools of sweat notwithstanding). In addition, they limit their calorie burn by limiting how hard they their bodies can work (see http://www.sgfitness.com/site/1388195/page/851086 for more details on this.)
With the industry on the cusp of entering into the "power zone", Gene Nacey has created a completely new approach to training indoors with power, directed at the non-competitive population of recreational riders and non-cyclists. Gene has teamed up with Sally Edwards to make this into a brand new Power Training Certification for indoor cycling instructors who will soon be faced with bikes with power meters and the need to both teach, and interpret them for their students.
"Gene has created a system that not only anyone can learn, but anyone can teach. He has demystified the numbers, translated them to everyday language and analogies, and added an entire new dimension to conducting indoor classes. Power training isn't just for the pros anymore. We are delighted to imbed his methodology into our overall Heart Zones system of cycling instructor certifications. I can't wait to launch this on November 7th, at our Showcase in St. Louis." Said Sally Edwards, founder of Heart Zones, USA.
A complete agenda of this new Power Training launch in St. Louis and other Heart Zones events can be found at
http://bit.ly/Yg2Al
. CEU credits are available.
###