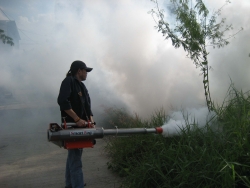 Westfield, IN, October 20, 2009 --(
PR.com
)-- In response to another deadly earthquake in the Asian region, Curtis Dyna-Fog, Ltd. of Westfield, Indiana (USA) donated several hand held pulse-jet foggers known as THE FALCON for use in disease control.
The latest quake measured 7.6 and devastated a large portion of the Padang district in Indonesia. Many people ran for the nearby hills away from the building structures.
As reported by CNN.com "Indonesians trying to find out more about the quake flooded the Internet, including Twitter. Some expressed concern for relatives and friends in Padang."
"Dear God, please send down your angels to hug and protect my grandpa in Padang," said one Twitter post.
The Web site for one of Indonesia's main newspapers, The Jakarta Globe, crashed for a while, partly as a result of the heavy traffic from people trying to find out about the quake, the paper said in a Twitter post.
The Pacific Tsunami Warning Center of the National Oceanic and Atmospheric Administration (NOAA) issued a tsunami watch for Indonesia, India, Thailand and Malaysia, but canceled it soon after.
The temblor did generate a tsunami just under one foot high, the Pacific Tsunami Warning Center said.
As in past natural disasters, Curtis Dyna-Fog's Indonesian distributor "P.T. Triman Sentosatama" played an instrumental role as first responders on the scene of the deadly earthquake.
###