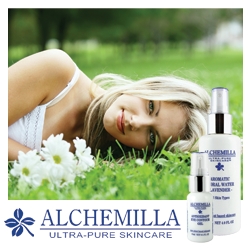 Oregon City, OR, November 14, 2009 --(
PR.com
)-- In their pursuit of helping to conserve and cultivate endangered medicinal plant species, Alchemilla, an organic skin care manufacturer from Oregon, has recently joined other equally fervent companies in becoming a Corporate Member of
United Plant Savers
.
United Plant Savers (UpS) is a Vermont-based non-profit organization that was founded 15 years ago by famous modern herbalist and author, Rosemary Gladstar. The mission of the group is to protect indigenous medicinal plants of the United States and Canada, including their native habitat, while establishing bountiful renewable resources for herbal medicines for future generations.
UpS has been continuously researching, educating and protecting the interests of native medicinal plants and their habitats, with a specific focus on raising awareness of those plants that are in danger of extinction through over-harvesting in the wild. This group of concerned herbalists can be aptly called the voice of Mother Nature for healing herbs that are under threat of extinction.
Now that Alchemilla (an organic skin care manufacturer in Oregon) is on board as part of UpS corporate membership, it is expected to further boost awareness of the huge need to conserve and propagate rapidly depleting North American medicinal herbs. Alchemilla is excited to participate in UpS' future events and programs that help enrich knowledge and heighten awareness about this alarming issue.
Currently, and prior to becoming an official corporate member of UpS, Alchemilla has been actively supporting the organization with its "Partners in the Green" project by pledging a $1 donation to UpS for every purchase of an Alchemilla Skin Care Trial Kit.
Deanna Vazquez, founder of
Alchemilla
, says: "By raising awareness of at-risk medicinal plant species through our new corporate membership and ongoing participation in the UpS 'Partners in the Green' program, we hope to inspire other manufacturers to take action toward saving and possibly growing at-risk native medicinal plants in their area."
Certainly, sharing this common goal with UpS is one big leap toward igniting awareness amongst Alchemilla's peers and what can be done to help save these precious plant species.
###