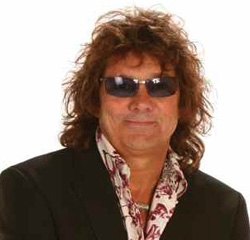 Palm Desert, CA, November 19, 2009 --(
PR.com
)-- Mickey Thomas, the lead singer of Starship (famous for hits like We Built This City on Rock and Roll and Nothing's Gonna Stop Us Now), just released a new PSA for Noah's Wish, a nonprofit organization that rescues animals from disasters.
"I've been fortunate to enjoy the love and positive energy from my fans all these years," said Mickey Thomas, whose "Fooled Around and Fell in Love" was a hit when he was with Elvin Bishop. "This year, my birthday wish is to share the love with Noah's Wish, which has stepped in to help animals in huge disasters like hurricane Katrina and the California firestorms."
Thomas recorded a public service announcement that can be viewed at YouTube here: http://bit.ly/3HMiVh.
Thomas continued, "At times of disaster, when humans are being evacuated from floods or fire, their shelters often have no room or ability to accommodate animals like the family pets, much less large animals like horses and goats. Some even choose to stay behind in disasters, putting themselves in danger to protect their pets, who are family members to them. That's where Noah's Wish comes in."
Humans have many community agencies that come together to help people find shelter, food and supplies during disasters. Noah's Wish sets up shelters and mobilizes volunteers, veterinary services, and supplies to help animals evacuate safely, too, and eventually reunites them with their families.
Rachel Thomas, Mickey's wife, approached Noah's Wish asking them to find a special way to help fans and friends join them in this cause, and to wish Mickey a happy 60th birthday at the same time. "All you do is choose the campaign labeled "Celebrating the Birthday Wish of Mickey Thomas of Starship" at the Noah's Wish web site, here: http://www.noahswish.info/Donations.html."
"We're devoted to our dogs, and we know that in a disaster, we would have to bring them with us. It broke our hearts to see stories of families whose pets were not able to join them in the evacuation shelters and rescue boats," Rachel added. "That's why we became involved, and why we are asking our friends, family and Mickey's fans to join us in this mission of gratitude."
Mickey Thomas and the Starship band also donated a signed guitar to be auctioned off at the Noah's Wish "Help for the Holidays" event, starting November 20, 2009. Author Dean Koontz, Actress Kristin Chenoweth, Dog Whisperer Cesar Millan, Football legend John Madden and players from the Oakland Raiders are just some of the folks who haveˇdonated items for the sale. There will even be a pair of tickets to the prestigious Westminster Dog Show available to the highest bidder.
###
Noah's Wish
Noah's Wish is a not-for-profit, animal welfare organization with a singular, straightforward mission - they exist to keep animals alive during disasters. Having just one focus, Noah's Wish is able to direct all its resources towards ending the needless suffering and death of animals when disaster strikes. Noah's Wish works to mitigate the impact of disasters on animals through its educational outreach programs, networking andˇdisaster response services across the United States and Canada. With an ever-growing national network of skilled volunteers, Noah's Wish is able to respond to disasters prepared to provide whatever services are needed to ensure that animals survive.
Starship featuring Mickey Thomas
Mickey Thomas is the owner of the soaring voice that propelled Starship through the '80's and '90's. With his soulful and compelling vocals, Mickey has established himself as one of Rock Music's most recognizable stars. Mickey is currently celebrating his 30th anniversary with Starship since he joined Jefferson Starship as lead vocalist after the departure of Grace Slick and Marty Balin. Every Starship album released has gone Gold, Platinum or Multi-Platinum. Mickey made his mark in 1976 as lead vocalist on the mega-hit "Fooled Around and Fell in Love" with The Elvin Bishop Band. Mickey joined Jefferson Starship in the late '70's. Backed by the power of Mickey's vocals, Jefferson Starship immediately scored a #1 hit with "Jane." With this new sound and powerful new vocals, the group was renamed Starship and continued to record an amazing string of hits including "No Way Out," "We Built This City," "Sara," and received an Oscar Nomination for the #1 hit "Nothing's Gonna Stop Us Now" from the movie "Mannequin." Other top hits include: "Find Your Way Back," "Stranger," "Laying It On The Line" and "It's otT Over Till It's Over," which became Major League Baseball's theme in 1987. Jefferson Featuring Mickey Thomas continues to tour throughout the USA and Canada. Current concert schedules can be found at the band's web site, http://www.MickeyThomas.com. Thomas celebrates his 60th birthday on December 3, taking the party on tour in 2010.