Captiva Spine Receives 510(k) Clearance for Its Proprietary Lumbar Interbody Fusion Device, the PIVOTEC™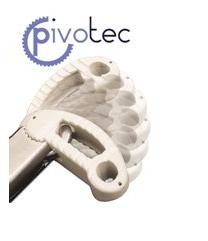 Jupiter, FL, December 04, 2009 --(
PR.com
)-- Captiva Spine, Inc., a medical device organization dedicated to developing and distributing spinal technologies in the US and internationally, announced today that it has received 510(k) clearance for its cutting edge interbody system, the PIVOTEC™.
Dale Mitchell, President and Founder of Captiva Spine said, "The PIVOTEC™ is a unique TLIF (Transforaminal Lumbar Interbody Fusion) technology that has been specifically designed to address the challenge of controlling cage insertion and manipulation during surgery. The secret", Mitchell added "resides in our proprietary inserter that allows the cage to safely and accurately pivot without disengaging from the instrument, eliminating multiple passes with additional tamps and pushers."
This FDA clearance is an important milestone for Captiva Spine and the ideal complement to the company's existing fusion portfolio. The organization is confident that the market will quickly realize that the PIVOTEC™ is the solution of choice for standard TLIF procedures; but more importantly for anatomically challenging situations and minimally invasive applications.
The PIVOTEC™ was successfully introduced during the North American Spine Society meeting held in San Francisco in November. The organization is currently growing its US and international sales and distribution network. Distributor inquiries are welcomed.
About Captiva Spine, Inc.
Founded in 2007, Captiva Spine is a privately owned medical devices organization headquartered in Jupiter, Florida. The company's mission is to provide the market place with a comprehensive range of reliable high quality spinal technologies. Our core competency resides in our ability to understand the reality of the operating room, allowing the organization to identify and develop tangible spinal solutions. Captiva Spine markets a full range of fusion technologies in the US and Internationally.
Source: Captiva Spine, Inc.
Contact: Dale Mitchell, President
Tel: 877-772-5571
Dale@CaptivaSpine.com
Web address:
http://www.captivaspine.com
###
Contact
Captiva Spine, Inc
Dale Mitchell
877-772-5571
www.captivaspine.com

Contact