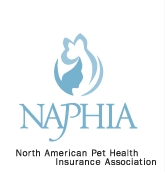 Pittsburgh, PA, December 04, 2009 --(
PR.com
)-- The North American Pet Health Insurance Association (NAPHIA) has awarded an educational grant and recognition award to Carrie Miller DVM, DACVIM. The grant is due in part to honor the late "Heimdall," a much beloved deaf Great Dane. The grant is provided to support further research of mutating bacterial pneumonia and other respiratory illness in large breed dogs.
Heimdall's story also won the 2009 North American Favorite Pet Story, presented by NAPHIA. Meg and Joel Wittenmyer are members of the Denver area Rocky Mountain Great Dane Rescue Group were also the owners of Heimdall. In November 2008 the Wittenmyer's brought the rescued Heimdall to Dr. Carrie Miller for a persistent cough. What began as an upper respiratory infection progressed to recurring bacterial pneumonia that mutated each time that Dr. Miller tried a new antibiotic.
"Dr. Miller took us through a very painful and complicated illness and loss of Heimdall. She was fighting for the health of our dog every step of the way. We care greatly for our veterinarian Dr. Miller, and the entire team at Wheat Ridge Animal Hospital," stated Joel Wittenmyer.
According to Dr. Miller, "Heimdall was a very sick dog with a complicated form of recurring bacterial pneumonia that mutated each time we tried a new or different level of antibiotic. Heimdall was a wonderful dog and with pet health insurance we treated a case that normally would not have been pursued. With the further support of this grant, we intend to share factors related to Heimdall and similar cases."
"NAPHIA is committed to providing education and raising awareness for the value of quality pet health insurance. This is not just a message for pet owners, but also a message to veterinarians. Today, we simply cannot rely just on client's personal funds, and credit cards to cover a complicated pet health crisis. The value of practical data being shared (in this case) by Dr. Miller is also a means to support overall better pet health," said, Loran Hickton, Executive Director, NAPHIA. The grant provides a $500 recognition award to Dr. Miller and further financial support for publication of Dr. Miller's data regarding respiratory illness in large breed dogs.
###
More about Dr. Miller
Dr. Miller is Board Certified in Internal Medicine and practices at Wheat Ridge Animal Hospital, Wheat Ridge, CO. She received her DVM from Tufts University in 1999, and then completed a rotating internship in medicine and surgery at Wheat Ridge Animal Hospital in 2000. In July 2003 she became board certified by the American College of Veterinary Internal Medicine after finishing her residency at Wheat Ridge Veterinary Specialists. Dr. Miller's special interests include respiratory physiology, endocrinology and immunology. Dr. Miller has presented research on laryngeal paralysis and infectious tracheobronchitis at the ESCVIM in Ireland (2001) and the ACVIM in Charlotte, NC (2003). Her research has been published in the Journal of Veterinary Internal Medicine and she has contributed to several veterinary book chapters. Dr. Miller is a member of the American Animal Hospital Association, American Veterinary Medical Association, Colorado Veterinary Medical Association and the Denver Area Veterinary Medical Society.
About Wheat Ridge Veterinary Hospital
Wheat Ridge Veterinary Hospital provides the highest quality and state-of-the-art medical and surgical care available in a kind and compassionate environment. In addition to the general American Animal Hospital Association (AAHA) accreditation held since 1963, we recently became one of the first hospitals in the United States to be accredited through the new AAHA Referral Standards. AAHA referral accreditation validates that a specialty practice is meeting the highest standards in the profession. We are now accredited in Internal Medicine - Small Animal, Emergency & Critical Care, Surgery, Radiology and Feline & Canine Practice. Our board-certified specialists understand how important your pet is to you and value the commitment you make in seeking a higher and more advanced level of care. Be assured that every doctor and team member your pet encounters is dedicated to making their visit both pleasant and successful. To learn more, visit:
http://www.wheatridgeanimal.com
About Rocky Mountain Great Dane Rescue
Rocky Mountain Great Dane Rescue, Inc. is recognized as a major resource for the welfare of homeless, abandoned and abused companion animals in Colorado, Kansas, Nebraska, Utah and Wyoming. Our goal is to lower euthanasia rates in our region by: 1. Bringing adoptable pets into our program for medical and social rehabilitation and re-homing. 2. Providing resources to pet owners to encourage their responsibility and commitment to their pets and prevent them from contributing to the homeless pet population. We want to continue to be a valuable resource to our community. We believe that one person can make the difference in the life of an animal in need, so as an organization, we have more strength to help more animals. As part of our mission, RMGDRI firmly believes that it is our responsibility to do all that we can for every Dane that comes into our haven, into our care. To learn more visit:
http://www.rmgreatdane.org
About The North American Pet Health Insurance Association
Founded in 2007, the North American Pet Health Insurance Association is committed to educating and promoting the values and benefits of pet health insurance to North American pet owners, the general public, and the veterinary industry. To learn more, visit our website at
http://www.naphia.org