Combi® USA Launches Coccoro Flash Stroller Frame
The Coccoro Flash is designed for use with the Coccoro convertible car seat.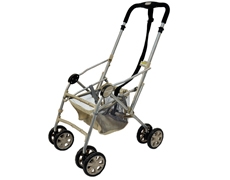 Fort Mill, SC, December 09, 2009 --(
PR.com
)-- Stroller and car seat manufacturer Combi USA, is set to launch the Coccoro Flash, a lightweight, compact and portable stroller frame.
Combi's goal is to provide parents with products that are lightweight, compact and portable. The Coccoro convertible car seat was designed to provide a solution to families with multiple children and smaller vehicles. As a result of the compact design, families can fit three Coccoro convertible car seats in their smaller vehicles. The Coccoro Flash has been designed to provide these families with a travel system option. The Coccoro convertible can be easily attached or detached to the Coccoro Flash. The Coccoro Flash is approved for use with the convertible rear facing, for infants weighing 5 to 33 pounds.
Combi strollers, including the Coccoro Flash, feature the patented 3-Second Fold®, allowing for a quick and compact fold in just three seconds. A storage basket, carrying strap and a light weight of 10¼ pounds make the Coccoro Flash convenient for use when traveling.
The Coccoro Flash will be available in Dec. 2009 and retail at $79.99. It is not recommended for use with other manufacturer's car seats. The Coccoro convertible car seat has a retail price of $199.99. Travel bags designed to fit the Coccoro convertible car seat and Combi single strollers sell separately for $19.99. 3-Second Fold® is a registered trademark of Combi USA, Inc.
About Combi USA: Combi, a shortening of the word "combination," refers to the combination of mother and child. Combi USA, Inc., established in 1989, is a subsidiary of Combi Corporation. Established in 1961, Combi Corporation is a Japan-based company that has carefully cultivated a firm and growing foundation of customer trust. For the past forty years, this trust has driven the brand forward as a leader in the juvenile products industry. Since its inception, Combi has remained true to its core commitment to establish healthy living environments for babies. Today, Combi provides safe, original juvenile products for nearly every setting of a child's life. For more information on Combi products, visit www.combi-intl.com.
###
Contact
Combi USA
Tanya Reid
803-548-6633
www.combi-intl.com

Contact