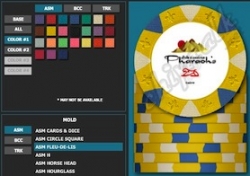 Dallas, TX, December 16, 2009 --(
PR.com
)-- The poker chip experts at ChipTalk, have come up with a unique marketing strategy for the latest release of their Pharaoh's Club clay poker chips range. They are releasing a free poker chip pack to help potential buyers compare different chips by feeling and hearing a variety of poker chips before buying.
The new Pharaoh's Club poker chip line continues to be produced as a true compression-molded clay chip. It has a unique custom mold, larger inlays, and two new designs – a 5¢ chip and a $5000 chip.
ChipTalk.net is a web site for people that want advice on buying poker chips. Greg Cagle, the owner of ChipTalk and co-designer of the new range says:
"The very first piece of advice that we tell prospective buyers is - "Get samples!". But now we've made it even easier for them. We've gathered a whole bunch of samples from leading chip manufacturers, all in one package, and we're giving them out free! All they need do is pay for postage."
The experts feel that it is important that you feel, hear and see a variety of poker chips before you buy. A picture on the web is not enough. The chip pack includes nearly 50 different chips and playing cards, including:
Compression Molded Clay Chips
Real Casino Chips
Ceramic Chips
Injection Molded Chips
Hybrid Chips
Vinyl and other chips
Playing Cards
The chip and card samples in The Chip Pack are provided by various retailers around the globe.
A full-color guide and descriptive details of the chips is included in every pack along with the vendors marketing materials and discount codes for ChipTalk members.
ChipTalk.net
also has an interactive online Chip Factory tool that you can use to design your own custom clay poker chips from several different manufacturers. You can load all the molds, spot options and colors for each of the chips you design.
Members and staff love helping new chip enthusiasts.
###