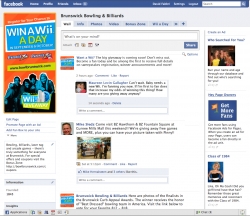 Chicago, IL, December 16, 2009 --(
PR.com
)-- Brunswick Bowling launches its presence in social media with its Win a Wii-a-Day Sweepstakes. The contest was designed to generate interest and excitement around Brunswick's new Wii Bowling Clubs. The campaign enticed participants with the chance to win a Wii game console, which was being given away every day throughout September and October. The contest drew 295,000 entries and significantly elevated Brunswick Bowling's presence in the social media arena.
To generate excitement around the new fall bowling league program, LoSasso Advertising, a
Chicago interactive marketing agency
, launched a new
social media program
for Brunswick. The online presence included sites Facebook, YouTube and Twitter. These online efforts were further supported in bowling centers with point-of-sale materials as well as pre-launch promotion sent through Brunswick's Bonus Zone email marketing database.
The sweepstakes registration included cross promotion with Brunswick's Bonus Zone e-mail coupon program, which resulted in 6,550 new opt-ins. An online YouTube Wii-a-Day video submission contest was also created to leverage the excitement and strong social interaction being generated around the sweepstakes.
Within 60 days the program generated 12,000 Facebook fans, 6,050 direct coupon downloads for immediate bowling discounts, and 6,000 requests for more information on Brunswick's Wii bowling clubs. With its new online presence, Brunswick can better engage its target audience with a higher level of participation both online and in bowling centers.
"We have expanded our online efforts into paid search and social media with very strong results in both channels," expressed K. Bart Burger, Vice President of Marketing, Brunswick Bowling and Billiards. "With LoSasso's guidance, project management, and expertise, we have really embraced the shift in marketing to the online world."
LoSasso Advertising is Chicago interactive marketing agency that utilizes a unique, proven methodology derived from experience in direct response marketing. LoSasso combines advertising, direct marketing, branding, online marketing and public relations to build integrated programs that drive measurable response. For more information, contact LoSasso Advertising at 773-271-2100.
###