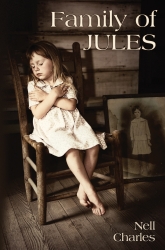 Indianapolis, IN, December 23, 2009 --(
PR.com
)-- This family epic opens in 1850 when a young couple traveling west in a Conestoga wagon is attacked by a band of Crow braves and violently murdered. Lakota Sioux, Standing Elk and his wife Winona, come upon the horrible scene, spot a newborn in the carnage, and rescue him for their own. The infant is born Jules Merrell, but Standing Elk gives him the name White Bird. When he reaches the age of 10, Winona forces the feisty redhead to leave the tribe to escape the jealous wrath of his older blood brother who wishes him dead. Halfheartedly, he heads to Fort Laramie for his safety, but eventually Jules leaves the west and moves east to Port Comfort, Virginia to make a life of his own. Before long, Merrell's Mortuary establishes his status as the town's only undertaker. He meets Mary Mears, a beautiful woman with a tragic past. They marry and he takes her to 123 Wine Street, the home of his dreams, built with his own hands. Finally, Jules' hope for the future is bright, but life in Port Comfort, Virginia holds many disappointments for this patriarch and his family.
Family of Jules by author Nell Charles is a poignant drama about a family shrouded in secrets and a curse handed from one generation to the next. When Jules' granddaughter Lottie is born, his keen intuition tells him that she is destined to stand out among the rest. Twenty years after his death, Lottie discovers her grandfather's journal, and is inspired to take charge of the family and its legacy.
Over time, the Merrell generations hold deep seeded jealousy; endure racism, cruel sibling rivalry and witness sudden deaths. Behind it all is the secret pain of mental illness, and yes, that certain love and emotion that only a family shares. Will the family of Jules find redemption and happiness?
You will enjoy sharing the turbulent life of this remarkable family. Charles' characters are believable, despicable, likable, and most of all…real.
http://www.FamilyofJules.com
###
For further information contact: Ray Robinson at 317-228-3656, via email at RayR@DogEarPublishing.net, or through the website at: www.dogearpublishing.net
Family of Jules
Nell Charles
Dog Ear Publishing
ISBN: 978-160844-080-1
412 pages
Available at Ingram, Amazon.com, Barnes & Noble and fine bookstores everywhere
About Dog Ear Publishing, LLC Dog Ear Publishing offers completely customized self-publishing services for independent authors. We provide cost-effective, fast, and highly profitable services to publish and distribute independently published books. Our book publishing and distribution services reach worldwide. Dog Ear authors retain all rights and complete creative control throughout the entire self publishing process. Self publishing services are available globally at
www.dogearpublishing.net
and from our offices in Indianapolis, Indiana.
Dog Ear Publishing – self publishing that actually makes sense!