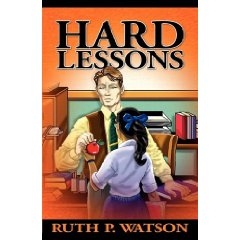 Atlanta, GA, December 25, 2009 --(
PR.com
)-- Ruth Watson, freelance writer and adjunct professor has released her second book, Hard Lessons. Set for publication on September 25 by In Between the Lines Press, the book tells the story of a young girl whose life begins to spin out of control when she finds comfort in the arms of her high school chemistry teacher.
Hard Lessons addresses a subject that has become widely publicized as cases of inappropriate student-teacher relationships have become seemingly more frequent in recent years.
"As an educator, I have witnessed unusual chemistry between a student and teacher. Although rare, sometimes these relationships develop into something entirely inappropriate, leaving the student devastated and a teacher's reputation permanently damaged," Watson said.
Hard Lessons is geared toward young adults as it focuses on relationships and issues that may face adolescents. Lainey, the book's main character, learns the hard way that relationships do not always turn out as depicted in romance novels. As a result of a forbidden relationship with her teacher, Sal Pilla, she finds that some of life's best lessons are Hard Lessons.
Hard Lessons will be available for purchase at Amazon, Barnes & Noble and other independent bookstores as well as through distributors Ingram and Baker & Taylor.
Ruth P. Watson has an MSA from Central Michigan University and is currently an adjunct professor and project manager. She is the recipient of the Caversham Fellowship, an artist and writer's residency in Kwa Zulu, Natal South Africa, where she published her first children's book in Zulu, Our Secret Bond. She has written for Upscale, The Atlanta Journal-Constitution and other publications. She lives with her husband and son in Atlanta.
For Booking Contact:
Ruth P. Watson ~
Ruth@ruthpwatson.com
404 696 5560
###