Corporate Traffic Named One of America's Top 100 3PL's by Inbound Logistics Magazine for the Tenth Year in a Row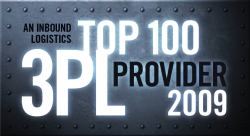 Jacksonville, FL, December 31, 2009 --(
PR.com
)-- Corporate Traffic Inc., a Jacksonville, FL based third party logistics provider specializing in both asset based and non-asset based freight management services, proudly finishes out their 10th year ranked as one of the Top 100 3PL Providers by Inbound Logistics Magazine. Corporate Traffic first appeared on the Top 100 3PL list in 1999 and has strongly maintained this designation for ten successive years. This annual list highlights the top providers in logistics, transportation, warehousing, and IT/Web services, as well as specialty services, such as reverse logistics and direct-to-store order fulfillment.
"Tactical operational results are fundamental to 3PL value, but so is the strategic vision of experienced logistics providers. Today's business logistics leaders say they appreciate 3PLs that are proactive, take the lead in offering suggestions, and help transform the enterprise. Corporate Traffic qualifies as an Inbound Logistics 2009 Top 100 3PL Provider because it has shown consistent results in transforming customers' logistics and supply networks, businesses, and enterprises," said Felecia Stratton, Editor, Inbound Logistics.
Top 100 Selection Methodology
For Inbound Logistics editors, selecting the annual Top 100 3PL Providers demands a great deal of industry and analysis, given the pace of change and the number of new entrants in the global outsourcing market. More than 300 companies submitted questionnaires for consideration in 2009 and IL editors conducted a diligent process of evaluating these surveys and speaking with companies and customers, in addition to conducting online research. The service providers the editors selected possess skill sets and resources capable of matching most outsourcing needs. Editors make their selection with the goal of providing a balanced and accurate assessment of readers' needs and the 3PLs best-suited to meet their specific requirements.
About Inbound Logistics Magazine
Inbound Logistics is the leading trade magazine targeted toward business logistics and supply chain managers. The magazine's editorial mission is to help companies of all sizes better manage corporate resources by speeding and reducing inventory and supporting infrastructure and better matching demand signals to supply lines. More information is available at www.inboundlogistics.com.
About Corporate Traffic Inc.
Corporate Traffic Inc, (Jacksonville, FL) Founded in 1992 is an industry recognized leader in logistics and transportation services. Corporate Traffic has been listed as one of Inbound Logistics top 100 3PL's since 1999 for offering clients both quality asset and non-asset logistics solutions. At Corporate Traffic, Never Settle is more than a motto. It's a quantifiable mentality that all our employees and partners employ to get our clients the results they need, when they need them.
###
Contact
Corporate Traffic
Lisa Diaz
904-400-6018
www.corporate-traffic.com

Contact