Tom Cambell, Current Candidate for California Governor, on Jesse Draper's "The Valley Girl Show"
"The Valley Girl Show" is winding down this season and gearing up to film their next one in February but not before releasing some biggies. Interviews with Tom Cambell (current candidate for California Governor), John Morgridge (former CEO of Cisco Systems) and Vinod Khosla (Billionaire Cleantech Venture Capitalist). http://www.thevalleygirl.tv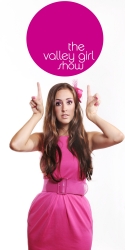 San Francisco, CA, January 12, 2010 --(
PR.com
)-- As this season of "The Valley Girl Show" nears to an end and Silicon Valley Girl Jesse Draper gears up to film her new season in early February, new fun, new guests and new surprises. But first, she certainly isn't letting this season have a quiet ending. She is about to release some big ones.
January 17, 2010: Tom Campbell, Current Candidate for Governor of California helps Valley Girl come up with a strategy to make all the stop signs in California PINK.
February 14, 2010: John Morgridge, Former CEO of Cisco Systems plays paddy cake with the Valley Girl.
March 14, 2010: Vinod Khosla, Founder of Khosla Ventures paints the Valley Girl green.
And this is just to name a few as she releases an episode every Monday morning (http://www.thevalleygirl.tv). She is also planning something big for the new year and begins her regular 'video blogging' debut in late February.
"I think live video blogging is something all internet and television personalities are going to have to start doing if they aren't already."
She has also begun to make conference appearances. She attends Twitter conferences regularly and TiE (http://www.tiesv.org), the largest non-profit of entrepreneurs in the world, asked her to do her very first live Valley Girl Interview which was broadcast in real time by Justin.tv and over 10,000 people tuned in for that half hour.
"I think conferences are going to become a regular thing for me. I grew up on stage so I am very comfortable with an audience. I like it more than filming in a studio."
Tune in to "The Valley Girl Show"
http://www.thevalleygirl.tv
http://www.youtube.com/valleygirl
http://www.twitter.com/valleygirlshow
###
Contact
Valley Girl, Inc.
Jesse Draper
650-380-1298
http://www.thevalleygirl.tv

Contact