Casino La Vida Has Launched
The much anticipated unveiling of Casino La Vida has arrived. Monday the 18th of January 2010 saw the launch of an exclusive new online casino brand powered by Microgaming: Casino La Vida. According to insiders, this casino promises to be exceptional; a step above the rest; a name to remember and an experience to be enjoyed.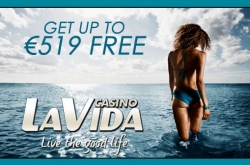 Johannesburg, South Africa, January 19, 2010 --(
PR.com
)-- Casino La Vida appears to have evolved from a collection of opinions. Each employee had a say in what they would want from their online casino experience, and this was all taken into account in the creation of the brand. The message behind Casino La Vida is all about lifestyle. It describes an escape from the daily grind, and wants to invite patrons to take some personal time for leisure and luxury. Casino La Vida is there to give players the impression that they have entered a realm centred on enjoying themselves and their valuable time. Essentially, Casino La Vida wants to give the impression that online caisno is all about enjoying life. With a slogan like: "Live the Good Life", you can expect that
Casino La Vida
is going to do what they can to impress.
Casino La Vida players will be treated to over 450 exceptional Microgaming games that span from table games to parlour games, and video slots to classic slots. Every player has a wealth of entertainment at their fingertips and the emphasis is placed on variation and distinction. Players are also due to receive world class service and support 24 hours a day, 7 days a week, with assistance offered in English, French, Italian, German and Spanish. Casino La Vida promotional items are set to be competitive and out of the ordinary, with the intention of coming across as a breath of fresh air. Conforming to the current industry standards was not the idea with the launch of Casino La Vida. They want to appear different, exclusive and something that regular casino players will be pleasantly surprised by.
This casino launch comes hand in hand with a year that is certainly packed with possibility. One Casino La Vida employee had this to say of their impending opening day: "We have pulled out all the stops to make sure that Casino La Vida is a casino to remember from the word go. I don't think we will sleep until Monday, but that is ok so long as everything is launched perfectly." Obviously paying attention to detail is a large factor with this casino launch, and will more than likely be one of the stronger selling points for this new online casino.
###
Contact
Casino La Vida
Katherine Connell
+27114998581
www.casinolavida.eu

Contact