New Product Release "Stick NFlip™" The Self Stick, Flip-Open, DVD, Video Game Case Binder and Organizer
Safe Environmental Alternatives, the distributors of Plumbaway™ the 1 second Drain Opener, today introduced the Stick NFlip™ that allows the consumer to self stick, browse, organize, binde 5 DVD & Game cases.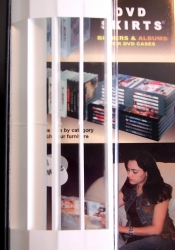 Houston, TX, January 26, 2010 --(
PR.com
)-- The Stick NFlip™, is a New product that allows the consumer to Organize Self-Stick, Binde, Browse, Video and DVD Movie cases in sets of 5 creating the ultimate organizational tool. The Stick NFlip™ also allows framed titles for quick searching, and cases open inside the binder. The Stick NFlip™ will be of tremendous value to consumers and their families who invest billions of dollars every year in the DVD and Video game industry for family entertainment.
"This is a cutting edge product that is simple, affordable and far superior to anything in the marketplace today that allows the consumer to organize, browse video games or DVD movie cases in sets of 5," said Christopher Lara, the President of Safe Environmental Alternatives Inc. "We expect tremendous sales of this product."
The Stick NFlip™ was designed because there's nothing worse than not being able to find your favorite video game when you want to play it, or walking into your childs room and finding those expensive DVD and video games cases all over the floor. The Stick NFlip™ will now eliminate the stress and seeing your hard earned money go down the drain.
Therefore making the Stick NFlip™ the ultimate organizational piece. Stick NFlip™ was presented to the largest retailer in America "Their response was the Stick NFlip™ is a small product that makes a huge statement."
###
Contact
Safe Environmental Alternatives Inc.
Christopher Lara
281 685 9017
www.dvdskirts.com

Contact