beRelevant, Inc. Announces Social CRM Platform That Proactively Gathers and Prioritizes Insights to Drive Decisions Inspired by Customers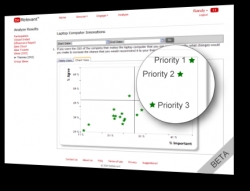 Pleasanton, CA, January 27, 2010 --(
PR.com
)-- beRelevant, Inc. (http://berelevant.com) has introduced a new Social CRM platform that uses virtual collaboration to proactively gather and prioritize insights from customers by engaging them through Twitter, Facebook, LinkedIn, and email. This enables companies to discover what is most important to their customers and drive positive word of mouth.
beRelevant's Social CRM platform uses customer-sourcing™ and patent pending virtual collaboration technologies to capture the collective wisdom of hundreds to thousands of customers in their own words, quickly distilling actionable insights that can impact business. The results enable companies to make decisions that drive customer co-innovated products, improved acquisition & retention, improved loyalty, and positive word of mouth.
The beRelevant platform:
· Goes beyond social media monitoring.
· Integrates seamlessly with Social Media enabling companies to engage customers where they are — Facebook, Twitter, and LinkedIn.
· Extends existing CRM systems by enriching customer profiles, segmenting the customer base into promoters and detractors, and identifying influencers.
· Provides an insight hub that fosters closing the loop with each participant while dispersing insights internally for action.
According to CEO Randy Hamilton, "Companies get so much feedback these days that it is almost impossible to make a decision. And social monitoring just doesn't seem to be living up to expectations. At beRelevant we have created a way for companies to quickly and cost effectively engage customers, understand their top priorities, make relevant decisions inspired by customers, and drive positive word of mouth." The platform includes best-practice conversation templates, real-time reporting, the ability to close the loop individually or by customer segments, and it is integrated with existing social networks such as Facebook, Twitter and LinkedIn. Interested companies are invited to use beRelevant on a free trial basis. beRelevant is located in Pleasanton, California.
###
Contact
beRelevant, Inc.
Randy Hamilton
(925) 526-5081
http://berelevant.com

Contact