New eBook and Seminars Reveal How to Stop the Pain Associated with Poor Project Management and Accounting Systems
7 Procedures using integrated project management and accounting software are the keys to health and growth for project-driven companies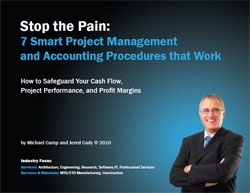 Seattle, WA, February 02, 2010 --(
PR.com
)-- The newly released ebook, Stop the Pain: 7 Smart Project Management and Accounting Procedures that Work, contains a wealth of knowledge on how project-focused industries, whether they manage services alone or both services and materials, can safeguard cash flow, project performance, and profit margins through implementing seven specific procedures.
"Project-driven companies that are technologically challenged get bogged down managing their projects and struggle to make them profitable," says co-author Michael Camp, Marketing Director at Synergy Business Solutions. "The 7 Procedures we recommend can take them to the next level and enable them to excel in functions they may find problematic, such as job costing, project bidding and budgeting, allocating resources, managing materials, and achieving profitability."
The ebook, which is laid out in an easy-to-read format and full of images, is not based on theory but mined from years of practice the authors and their colleagues have had as solution providers, CPAs, CFOs, and IT directors. There is a story woven throughout the ebook about a real-life engineering firm that ultimately implemented the 7 Procedures and eliminated their project-accounting pain.
"The book is a must-read for those at a crossroads in their financial and project management," says co-author Jered Cady, Executive Vice President of Synergy. "CFOs, CEOs, Controllers, IT Directors, and Project Managers, shouldn't walk, but run to the section on common painful problems, and see if their company can relate. There are sound solutions to these typical project-accounting maladies and this ebook spells them out."
"This second ebook is extremely practical and the perfect follow up to the prior ebook in the series published by Synergy Business Solutions," said John Wheeler, Founder of ControllerAdvice, referring to 7 Secrets the Healthiest Project-driven Organizations Know That You May Not, and written by Camp. "The authors, with the Synergy expertise they draw from, are spot on with their recommendations."
Synergy is also holding a series of lunch seminars on the subject of the ebook, which will teach attendees the 7 Procedures and demonstrate the solutions. These Stop the Pain seminars will be held from 12 pm to 1:30 pm in three cities: Bellevue, WA on Thursday, March 4, Mountain View, CA on Wednesday, March 11, and Irvine, CA, on Thursday, March 12. To register, visit
Stop the Pain Lunch Seminars
.
Since the copyright is under a Creative Commons License, the authors permit free redistribution of the ebook provided it is passed along unchanged and in whole. To download the 7 Procedures complimentary ebook,
Download eBook: Stop the Pain
About Synergy Business Solutions
Synergy Business Solutions is a Microsoft Gold Certified Partner based on the U.S. West Coast that specializes in providing comprehensive software solutions, including Microsoft Dynamics SL, to companies doing project-based work. Synergy helps organizations that have outgrown their systems and procedures, or identified cumbersome processes, to operate more efficiently. Synergy clients are empowered to effectively manage projects, resources, time, financials, and growth. Through flexible, integrated, and Web-accessible solutions, Synergy delivers insight, visibility, and control to an organization's managers. Synergy's method of prototyping systems with real company data allows organizations to see how software can meet their business needs before they purchase. For more information, visit www.synergybusiness.com or call 800-481-8590.
###
Contact
Synergy Business Solutions
Michael Camp
206-859-6507
www.synergybusiness.com

Contact