CPX Interactive Announces Formation of Board of Advisors
Online Ad Network Sees Creation of Advisory Board as Logical Step in Continued Growth.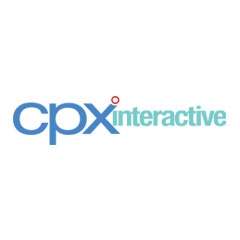 New York, NY, January 30, 2010 --(
PR.com
)-- Global online ad network, CPX Interactive, has announced the creation of a formalized Advisory Board and the board's first two members; Andrew B. Rosengard and Robert F. Hussey.
The move comes amid a number of other moves the
online ad network
has made, from personnel acquisition to the development of its own proprietary ad management platform (
CPX adROIt™
), that are all focused on the continuing goal of strengthening the company's position as a top tier player in the online advertising space.
The ad network is bringing together executives with backgrounds spanning the spectrum of media-related industries, with the goal of leveraging their collective insights and experiences. CPX President & COO, Rob Rasko, explains how the board fits into CPX's midrange and long range vision: "It was an obvious next step in our development to surround ourselves with leaders who could assist us in thinking through some of the high level corporate decisions we face. While we look forward to bringing on additional board members, we consider ourselves very lucky to have the caliber of executives that have already decided to come to the table. Both Bob and Andy are very distinguished in their careers and their insights have already been extremely valuable. Our team is stronger for having then around."
Andrew Rosengard is currently the Principal at the consulting firm, Rosengard & Associates, Inc. He brings over 25 years experience in the media, cable television, telecommunications, entertainment, and sports industries, including many years at Cablevision Systems Corporation. During his time there, Rosengard was instrumental in the development and launch of over 20 cable television networks. He also helped to develop Cablevision's IO Interactive Optimum digital cable service, Optimum Online High Speed Cable Modem service, and led M&A, operating transactions and financings valued in excess of $20 billion.
Rosengard values his new role with CPX: "I have been thrilled to be associated with CPX Interactive, first as a consultant, since mid 2008, and now as an advisory board member. Being involved in CPX's client development and overall strategy is fascinating, and I believe the company, with its cutting-edge technology and outstanding staff, is poised for dramatic growth and impact. I look forward to continuing to contribute to that growth."
Robert F. Hussey is a veteran packaged goods marketing executive, media entrepreneur and private investor whose resume includes stints as an executive with Grey Advertising, and as the founder of POP Radio Corp., which had its NASDAQ IPO in 1986 and was then sold to Heritage Media in 1991. Over the past nine years, Hussey has helped to raise over $100 million for approximately ten companies in the media, marketing services, and financial services sectors. He has a variety of experience in the financial and advertising sectors, and serves on several public corporate boards and advisory boards of several financial firms.
"Digital is a tough medium to navigate, tougher still when you consider all the variations of content delivery and creative that online media are taking today. Yet, despite these marketplace and messaging complexities, I saw CPX successfully bring product-offer development, branding and analytics to advertiser problems and repeatedly generate sales for its clients. That's a company and management team I want to help grow and take to the next level," Hussey said of his involvement with CPX.
CPX looks forward to expanding the advisory board in the future, and the opportunity to work with people who will help them to continue to progress and grow.
About CPX Interactive:
As a global online ad network with a state of the art proprietary ad management platform, CPX Interactive allows clients access to unlimited pools of online inventory while integrating customized suites of data points and providing total insight into both process and results.
CPX Interactive delivers more than 30 billion impressions to more than 200 million unique users in more than 60 countries every month, and was named the
6th fastest growing privately held advertising/marketing company
in the US by Inc. Magazine in 2008.
###
Contact
CPX Interactive
Samantha Karol, Sr. Marketing Assistant
516-693-0758
http://www.cpxinteractive.com
http://cpxadnetworkblog.com
http://twitter.com/cpxinteractive

Contact