Lights, Camera, Action Film Contest
Plenty of Kodak Vision film, an Arriflex motion picture camera and a topnotch crew will be used to shoot the winners dream.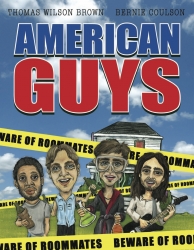 Los Angeles, CA, February 08, 2010 --(
PR.com
)-- Pyramid Productions announced today the new Lights, Camera, Action Film Contest. "This is a fantastic showcase for the best new work by American and international, writers, artist and independent filmmakers. The winner will have their feature story produced and shot on Kodak Vision film." Said Christopher Blackwell, the spokesperson for the contest. The Lights, Camera, Action Film Contest provides abundant opportunities to discover today's most innovative artists. In addition to the Grand Prize, the top ten finalists will receive distinguished awards. The complete list of details for the Lights, Camera, Action Film Contest is available at
www.americanguysmovie.com
or www.lightscameraactionfilmcontest.com "The talent is out there, we want to find people with stellar cinematic expression. The contest is designed to give back, anyone who goes through our submissions process will receive a complementary DVD of Pyramid Production's cult comedy hit American Guys." Said Joyce Carlene, the contest director. "It's $15 dollars to enter, the price of a bacon cheeseburger. This decade we are set out to raise the stakes of quality storytelling and create film that entertains and is consequential." Said Blackwell. The 2010 Lights, Camera, Action film contest is now accepting submissions.
###
Contact
Pyramid Productions
Christopher Blackwell
503-848-6950
www.americanguysmovie.com
www.lightscameraactionfilmcontest.com

Contact