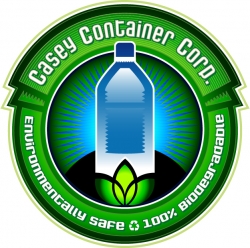 Northridge, CA, February 11, 2010 --(
PR.com
)-- Casey Container Corp. (formerly Sawadee Ventures, Inc.) today announces that it has acquired the licensing rights to incorporate EcoPure™ biodegradable additive into the manufacture of plastic containers for use in the food, beverage and pharma packaging industries. To reflect its new venture, the Company has changed its name from Sawadee Ventures, Inc. to Casey Container Corp. and has applied to the regulatory body for an official symbol change, which is pending approval.
Utilizing the new FDA-approved EcoPure™ technology, Casey Container plans to produce custom plastic container products that utilize standard polymers such as PET for strength, shelf-life, appearance and longevity, but have the added advantage of being 100 percent biodegradable in both compost and landfill environments, where the material is consumed by microbial activity in 2 to 5 years.
These containers will also be 100 percent recyclable and can therefore be mixed into the standard PET recycling stream. Other types of biodegradable bottles, such as Oxo-degradable or PLA (corn based) plastics, cannot be recycled with traditional plastics.
At launch, Casey Container will primarily serve food, beverage, and pharmaceutical companies that are eco-conscious and understand the competitive advantage a biodegradable plastic packaging solution offers in today's economy. The Company plans to open its first manufacturing plant in the Tampa/St. Petersburg, Florida area to serve a growing list of customers with expressed interest in implementing a 100 percent biodegradable plastic packaging solution.
To oversee the new venture, the Company has added James T. Casey, Terry W. Neild, and Robert Seaman to serve on the Board of Directors. Rachna Khanna, the previous sole director and officer of Sawadee, resigned effective January 6, 2010. Together, the three new members of management offer a wealth of experience in the food, beverage and packaging materials industries.
James (Tom) Casey will serve as president of Casey Container, bringing more than 30 years of experience in sales, marketing and distribution. Previously, he served in a senior management role with U.S. Industrial Chemical Co. where he became very well versed in plastic extrusion methods, blow molding of plastic containers, shipping of industrial chemicals and regulations for shipping chemicals. Prior to that, at Merck Darmstadt in West Germany, Casey led marketing initiatives for the company's leading edge genetic engineering products. Casey and his team marketed to Genetic Research facilities at NIH, the US Food and Drug Administration, medical schools on the East Coast, leading pharmaceutical companies, and various research organizations.
He later served as National Sales Manager for Dearborn Utilities Chemical Corp. (a Div of W.R. Grace) where he was responsible for the sales and marketing of chemical additives to coal burning utility companies nationwide to reduce carbon emissions into the atmosphere. Mr. Casey is an alumnus of Loyola College in Baltimore, where he received a B.S. in Chemistry and Biochemistry. He also served as a Naval Aviator from 1968 to 1971.
Casey Container CEO Terry W. Neild is past President and CEO of both Clearly Canadian Beverage Corporation and Jolt Beverages Corporation, both successful retail specialty beverage and bottled water companies. Throughout his 35-year career as a business leader and innovator, Neild has built a depth of proven entrepreneurial expertise in a variety of industries. He is a seasoned leader who has guided the development of several start-up companies, bringing them to substantial success.
He has extensive knowledge in mergers and acquisitions and has personally been responsible for raising hundreds of millions of dollars for companies he has served. Neild, who is a Certified Management Accountant, has held a number of senior financial positions in three Fortune 500 companies.
Casey Container Vice President of Operations Robert "Bob" Seaman has a wealth of bottling and manufacturing industry experience. He has held numerous leadership positions in his 37 years of work in manufacturing, mechanical engineering, and machine installation and repairs.
Seaman has installed, tested, repaired and run bottling equipment in 136 foreign countries and in all 50 states for everything from jelly to sun tan lotion and brake fluid to bottled water. In the water sector alone, Seaman has set up bottling plants for Fiji Water, Ozarka Water, Penta Water and many others.
He is adept at installing state-of-the-art equipment and maintaining it to obtain maximum quality and productions figures that meet and/or exceed requirements. For Casey Container, he will maintain production schedules and quality standards to more than adequately meet federal requirements. Seaman will also maintain a running inventory of raw goods, along with finished goods inventory, keep all preventive maintenance records, and oversee daily machine maintenance checks. He holds a Bachelor's Degree as an I.E. from Purdue University and held the rank of Sgt. E-7 in the United States Army.
About Casey Container Corp.
Casey Container Corp. is a public company traded on the OTC BB under the symbol SWDE. For information on this acquisition and licensing see
www.caseycontainer.com
.
Safe Harbor for Forward Looking Statements: Except for historical information contained herein, this press release contains forward-looking statements that involve risks and uncertainties, including but not limited to economic, competitive, governmental and technological factors affecting the company's operations, markets, products and prices as well as other factors addressed in the company's filings with the Securities and Exchange Commission. For all such forward-looking statements, we claim the safe harbor for forward-looking statements within the meaning of the Private Securities Litigation Reform Act of 1995. Sawadee Ventures Inc. disclaims any obligation to update any forward-looking statement made herein.
###