Eastern Shore Toyota Announces Free Proxy Browsing Tool, Available at IPToyota.com
IPToyota.com will now offer customers a free proxy browsing service available at http://iptoyota.com/proxy.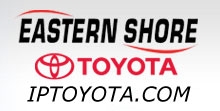 Daphne, AL, February 16, 2010 --(
PR.com
)-- As part of it's internet campaign, Eastern Shore Toyota is launching a suite of internet services for it's customers and partners, which will be offered free on it's website
http://easternshoretoyota.com
which is accessible also at http://iptoyota.com.
IPToyota.com is proud to announce a proxy browsing service, available at http://iptoyota.com/proxy free for all. The proxy browser allows the secure and anonymous viewing of websites. Options include the ability for users to disable scripts run by the page, and remove objects. Scripts and objects can cause security issues as well as transmit viruses. Using iptoyota.com's free proxy browser also does not display the ip address of the visitor, for total browsing anonymity. This tool will be free for all to use from the website iptoyota.com.
For more information, visit http://iptoyota.com/proxy
###
Contact
Eastern Shore Toyota
Gem Bertone
251-625-1919
www.easternshoretoyota.com
http://www.iptoyota.com
http://iptoyota.com

Contact