Jennifer & Gary Ricco of Keller Williams Along with Other Top Professionals Will be Hosting a Free Pre Foreclosure Homeowner Outreach Assistance Seminar on March 6, 2010
Wachovia Fast Track Short Sale Program for North Los Angeles Homeowners struggling with Wachovia, Golden West or World Savings loans. Here are some of the programs highlights: Approvals in 7-10 days, $2500 up to $5000 for moving expenses. Full release of lien and all deficiency issues waived. Average closing from start to finish: 48 business days.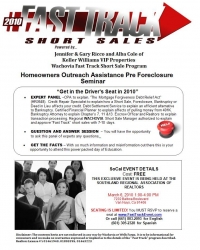 Los Angeles, CA, February 16, 2010 --(
PR.com
)-- •Expert Panel - Hear top professionals break down the emerging short sale trends and learn what options are available to prevent foreclosure.
Kelly Inga, Certified Financial Planner to cover current economic situation and explain affects of pulling money from your retirement plans. Michael Hoss, CPA to explain, "The Mortgage Forgiveness Debt Relief Act" (HR3648). Doug Minor, Credit Repair Specialist to explain how a Short Sale, Foreclosure, Bankruptcy or Deed in Lieu affects your credit. Berna Swodeck, Debt Settlement Service to explain an efficient alternative to Bankruptcy. Bruce Ficht Bankruptcy Attorney to explain Chapter's 7, 11 &13. Realtors Jennifer & Gary Ricco and Alba Cole along with Craig Mcguire Escrow Officer, to explain transaction processing. Guest Speaker Marc Souza, Regional Wachovia Short Sale Manager authorized to explain and approve "Fast Track" short sales within 7-10 days.
Start Time:
March 6, 2010 at 1:00PM
End Time:
March 6, 2010 at 4:00PM
Location:
Southland Regional Association of Realtors
7232 Balboa Boulevard
Van Nuys, CA 91406
To RSVP you can either call or go to the website to register. Seating is limited, reserve your seat early!
Telephone:
English (661)803-2093 Spanish (661)305-2328
Website:
www.FastTrackEvent.com
Disclaimer: The contents herin are not endorsed in any way by Wachovia or Wells Fargo. It is intended to be informational for consumers and we make no warranties expressed or implied as to the details of the "Fast Track" program described.
Realtors License #'s 01461940, 01803395, 1463223
###
Contact
Jennifer and Gary Ricco Keller Williams VIP Properties
661.290.3837
www.FastTrackEvent.com

Contact