Solay Wellness Offers Himalayan Salt Inhalers the Same Type as Recommended by Dr. Oz
Solay Wellness has long promoted the health benefits of Himalayan Salt for respiratory conditions. Dr. Oz is now promoting Himalayan salt pipes, too.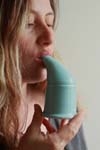 Skokie, IL, February 18, 2010 --(
PR.com
)-- Dr. Oz recently named Himalayan Salt Pipes, as one of the two alternative health products he is planning on using this year that he previously had not used. He mentioned that Himalayan table salt differs from table salt in that it is pure. He states that it has, "…no contaminants, no anti-caking agent, it's all natural, and has no pollutants." Because of this, Dr. Oz further states, Himalayan salt pipes "are helpful for asthma, allergies, sinus conditions,… and because it has potassium which decreases blood pressure, it may be helpful for that, too."
Himalayan salt pipe inhalers
are based on speleotherapy, treating respiratory conditions by breathing the pure, ionized air in salt mines, which has been popular in Europe for centuries. The Himalayan salt pipe is an affordable way to experience the many benefits of speleoptherapy without leaving home.
Solay Wellness handcrafts their salt pipe in the USA and uses pure, 84 mineral-rich, fair-trade gourmet Himalayan salt. Solay Himalayan salt pipes come with a free Himalayan salt refill and come packaged in a PET reusable tube for easy storage. Isabella, founder of Solay Wellness, comments that "Just using our Himalayan salt pipe inhaler for 15 minutes daily can flush away impurities, alleviate inflammation, decongest the lungs and even help lessen the use of traditional asthma inhalers. I'm thrilled that Dr. Oz has shared these benefits with his audience!"
Isabella founded Solay Wellness in 2004. Solay Wellness imports fair trade Himalayan salt, Himalayan salt lamps, Polish salt lamps and handcrafts a line of natural salt therapy products, hair care products, pet products and more utilizing Himalayan salt as their core ingredient.
###
Contact
Solay Wellness
Isabella Samovsky
847-676-5571
www.natural-salt-lamps.com

Contact