The Guardian Rates Joint Pocketweb and Volvo Solution as Top 4 Green iPhone App
CO2 tracker "Commute Greener!" rated high for feature richness and clever social networking aspects.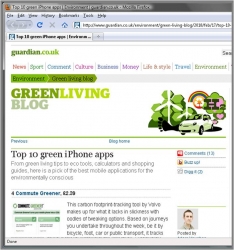 Sydney, Australia, February 23, 2010 --(
PR.com
)-- The Green Living Blog of the British Newspaper The Guardian rates Commute Greener! as top 4 app in a recent listing of green iPhone apps. The report especially praises the feature richness of the footprint-tracking tool that based on journeys one undertakes throughout the week tracks one's greenhouse gas emissions and encourages to set reduction targets. Also the syncing between the website and the iPhone app gets high ratings as well as the integrated social networking aspects. Users can compare their performance with other people and motivate them with messages to commute greener.
Says Dr. Alexander Koeppen, CMO of Pocketweb: "We are proud to see the app finding its users in the market and that we can make a little contribution to a cleaner world. The constructive feedback motivates us to further increase the app's user friendliness and usefulness."
Award-winning Australian and New Zealand start-up Pocketweb has developed the CO2 emission tracking service that can be used by commuters on the web and on the mobile phone. Named "Commute Greener!" the service had been jointly designed and launched by Pocketweb and Europe-based Volvo Group in December 2009.
Following a quick registration on the website the commuter can define the modes of transport that are used for commuting and other trips. The application calculates how much carbon dioxide is emitted when using different modes of transport, such as the car, train, bus, ferry or bicycle. After downloading the application from the iPhone App Store for example, the commuter can then track his daily commuting journeys and compare them against his CO2 saving target.
The service also embeds an online community for exchanging experiences and for running carbon dioxide emissions reduction competitions between colleagues, friends and family members. "Our tests have shown that individuals can quickly reduce their carbon dioxide emissions by more than 30 percent using Commute Greener!" says Magnus Holmqvist at Volvo IT. The service is also available to corporate customers who can use it to measure and reduce the CO2 footprint of the whole company or selected departments.
Commute Greener! is running on Pocketweb's Pocket Life Platform that allows corporates to extend their web business across mobile platforms in a secure and scalable way.
###
Contact
Pocketweb
Alexander Koeppen
+61 4 123456789
www.pocketweb.com.au

Contact