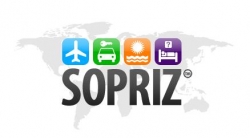 Denver, CO, March 02, 2010 --(
PR.com
)-- Affiliate partnership programs are among the most popular ways of monetizing on Internet traffic. Website owners always look for the most rewarding affiliate programs in order to capitalize on their traffic.
SOPRIS Global Management Holding (a leading global technology provider) announces the launch of a new global affiliated partnership program that offers 50% revenue share to website owners who targets worldwide travellers market.
SOPRIS Global Management Holding presents an inventory of 400+ airlines, 86,000+ hotels and 24+ car rental companies worldwide. By making their bookings (or purchasing travel products) through SOPRIZ.com will allow customers to save up to 60% on certain airfare destinations, hotels and car rentals.
There is neither implementation fee nor license fee for joining this unique and beneficial affiliate partnership program. SOPRIS Global offers 50% revenue share from all sales made from the website of its affiliates and the company also provides all technical and full travel booking support to affiliating partners and their customers.
Joining the affiliate program is very easy. Website owners need to put the booking widget of SOPRIZ.com to their websites and the process is over. On demand of interested affiliates the widget can be customized to better fit their requirements of placement. SOPRIZ.com also offers the facility of using co-branded pages to retain the existing look and feel of any of their affiliate's website.
Following java script code can be used to add SOPRIZ.com widget to a website:
<script type="text/javascript" language="javascript" src="http://www.sopriz.com/widgets?type=sopriz&affiliation_id=(your_affiliate_id)"></script>
To have a look on SOPRIZ.com example widgets visit:
http://www.sopriz.com/widget/us_den_leva.html, or
http://www.sopriz.com/cm/widget/anchorfree/3/widget_logo.html
All affiliates are offered a unique Affiliate ID using which affiliates can track leads conversion from their websites. Affiliates can get their payments/commissions at the end of every month either by direct deposit or through check mailed to the address specified by them.
Author Info: SOPRIZ.com is a first-of-its kind travel website powered by latest technologies. The website offers a massive selection of airlines, hotel properties, and car rental locations, so travelers can find lowest prices, best options available online for all their travel needs.
###