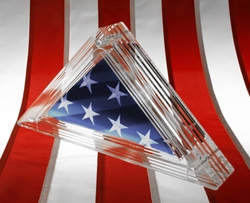 St. Louis, MO, March 02, 2010 --(
PR.com
)-- Living Patriot will continue its mission of thanking veterans and first responders for their personal sacrifices by participating in the Pepsi Refresh Project campaign in March. The Pepsi program, which provides $1.3 million in grants to worthy endeavors each month, will provide The Living Patriot Initiative the opportunity to grow and expand its operations.
The mission of St. Louis-based Living Patriot is to say "thank you" to every living veteran and first responder through the gift of a folded, American flag housed in a beautifully crafted, clear case called a Prism.
The Living Patriot Initiative is just one of the nominated projects that can be voted on at www.refresheverything.com during the month of March. It will compete in the $250,000 grant category and can be linked to Facebook for easy voting. If Living Patriot wins, it plans on using the grant money to employ disabled Veterans and to continue to improve and support its mission, to honor current patriots, educate future patriots and support causes with a patriotic mission.
The Pepsi Refresh Project accepts submissions from organizations that will have a positive impact in the community. Visitors to the website may vote up to 10 times a day for their favorite idea. Submissions cover a variety of categories ranging from health and education to the arts and environment.
Living Patriot owner Donald J. Fedorko hopes that the camaraderie that veterans and first responders share, and the gratitude of the American people, will result in his proposal staying in the lead during the month-long grant competition.
"I am thankful for everyone's support so far, and I love what my operation does," Fedorko says. "It allows us to say thank you to our heroes by giving them Prisms and allows Americans to proudly display their own flag in its full luminous glory. I am excited and thankful for the opportunity that Pepsi is giving us."
To vote, go to www.refresheverything.com/livingpatriot
Visit the Living Patriot Initiative at www.LivingPatriot.com or call Donald at 314-378-8890.
###