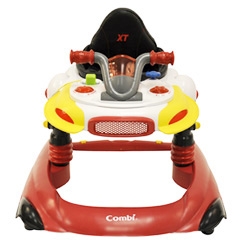 Fort Mill, SC, March 11, 2010 --(
PR.com
)-- Stroller and car seat manufacturer Combi USA, launches the Adventure Walker—an all-in-one walker, bouncer and entertainment center.
In 1997, the Consumer Safety Specification ASTM standard on walkers was revised to address injury causing incidences. Combi's all-in-one walkers were designed with safety features that meet these standards, maintaining Combi's dedication to child safety. Safety features include a wider base to prevent tipping and to prevent the walker from fitting through doorways—away from a caregiver's supervision. If one or more wheels were to drop over a surface edge, friction strips on the bottom of the base would act as a braking mechanism. There are three height positions, allowing adjustment to a child's height. The recommended use is for children that can sit upright unassisted, can not yet walk or climb and weigh less than 25 pounds.
The Adventure Walker, inspired by all terrain vehicles, follows Combi's popular Activity Walker that looks like a car. Entertainment features have been increased to include multiple lights, sounds and music—all are activated by pushing the handle bars, buttons or the turning of an "engine key". Under the activity tray is a built-in tray for snacking. Parents will appreciate the volume control and surfaces that can be wiped clean.
The Adventure Walker is available in two colors and retails for $119.99. The Activity Walker is available in a variety of colors and retails for $99.99.
About Combi USA: Combi, a shortening of the word "combination", refers to the combination of mother and child. Combi USA, Inc., established in 1989, is a subsidiary of Combi Corporation. Established in 1961, Combi Corporation is a Japan-based company that has carefully cultivated a firm and growing foundation of customer trust. For the past forty years, this trust has driven the brand forward as a leader in the juvenile products industry. Since its inception, Combi has remained true to its core commitment to establish healthy living environments for babies. Today, Combi provides safe, original juvenile products for nearly every setting of a child's life. For more information on Combi products, visit www.combi-intl.com.
###