Trenton Motherboard Increases System Performance and Brings Intel(R) Trusted Execution Technology to Secure Network Servers
Trenton's WTM7026 motherboards support two, six-core Intel® Xeon(R) Processor 5600 series and feature PCI Express® 2.0 technology. These Westmere-EP processors offer the power savings with increased performance and computer security needed in many rackmount server applications. The Trenton WTM7026 embedded motherboard offers many I/O and option card support features designed to maximize the effectiveness of COTS rackmount computer systems.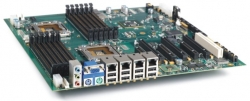 Atlanta, GA, March 16, 2010 --(
PR.com
)-- The same long-life availability and design excellence that Trenton has long been famous for in single board computers and backplanes now comes in an embedded motherboard form factor.
Trenton's WTM7026
is an SSI-EEB or Extended ATX motherboard with dual Intel® Xeon® processors 5600 series. These new processors integrate Intel Trusted Execution Technology1 (Intel TXT) with reduced power consumption. Department of Defense (DoD), Department of Homeland Security (DHS) and other sensitive computing applications can now utilize the security capabilities offered by Intel TXT in secure network servers. The Trenton WTM7026 embedded motherboard enables DoD and DHS deployments of long-life, COTS
rackmount computer
hardware platforms.
Trenton WTM7026 motherboards showcase PCI Express® 2.0 technology and are available in single and dual-processor configurations. Each processor supports three, dual-channel DDR3 direct memory interfaces for a maximum system memory capacity capability of 144GB. The processors feature Intel® QuickPath Interconnect technology (Intel® QPI) to aid in processor resource sharing during peak demand periods and providing quick communications between the processors and the Intel® 5520 chipset. The Intel® 5520 chipset implementation on the Trenton WTM7026 supports direct connections to the motherboard's PCI Express® 2.0 option card slots for optimum system data throughput.
"Trenton's WTM7026 embedded motherboards, when integrated into the U.S. built rackmount computer platforms from Trenton Systems, answers the application challenges of performance, flexibility and longevity," said Bill Bowling, Trenton V-P and General Manager. "The WTM7026 combines Trenton's expertise in long-life embedded computing applications with the latest multi-core Intel® Xeon® processor offerings utilizing the efficiencies of the new 32nm process technology."
"The Intel® Xeon® processor 5600 series delivers outstanding performance and power savings plus hardware-based technologies like Intel® Trusted Execution Technology," said Frank Schapfel, Product Line Marketing Manager, Intel Performance Products Division. "These processors are ideal for use in demanding embedded server applications in military/defense, homeland security and telecommunications network infrastructure."
Other WTM7026 Features
The WTM7026's dual LGA1366 sockets supports long-life, embedded, six-core, processor options such as the Intel® Xeon® processor E5645. The Intel(R) QPI implementation on the Trenton WTM7026 supports additional processor options with interconnect speeds of: 6.4GT/s or 5.86GT/s.
The twelve DDR3 DIMM sockets on the WTM7026 support a maximum theoretical capacity of 144GB. Today's 8GB DDR3 DIMMs deliver a max capacity of 96GB. The WTM7026's three, dual-channel memory interfaces support ECC registered and unbuffered PC3-10600, PC3-8500 or PC3-6400 DIMMs.
The seven option card slots on the Trenton WTM7026 support a variety of PCI Express Gen 2.0 and 1.1 option cards as well as a 32-bit/33MHz PCI option card.
Other Trenton WTM7026 board features include four 10/100/1000Base-T Ethernet ports, eight USB 2.0 ports plus an additional USB header delivering two extra USB interfaces. Video and audio ports are also available on the motherboard's I/O plate along with legacy PS/2 mouse and keyboard ports. The six SATA II/300 interfaces support standalone storage drive configurations or RAID 0, 1, 5 and 10 drive array implementations.
Pricing and Availability
Pricing discounts and processor availability varies. Contact Trenton for the latest information on pricing discounts as well as volume and OEM purchase programs.
About Trenton
Trenton is a designer and manufacturer of embedded motherboards, single board computers, system host boards, backplanes, processor AMCs and complete industrial rackmount computer systems for critical embedded computing applications. Applications from the military, DoD, medical instrumentation, and industrial control that require performance, precision and reliability all depend on Trenton products. Trenton is a member of the Intel(R) Embedded Alliance, a community of communications and embedded developers and solution providers.
Trenton offers PCI Express, PCI-X, PCI, ISA and MicroTCA® board and system-level industrial rackmount computer products designed and manufactured in ISO 9001:2008 certified USA facilities. All Trenton Technology motherboard, PrAMC and PICMG 1.3 products are backed by a full five-year warranty and Trenton's no charge technical support.
For more information about our company, or any Trenton product, call (800) 875-6031 or (770) 287-3100. Visit our website at www.TrentonTechnology.com for more information.
Intel and Xeon are trademarks or registered trademarks of Intel Corporation or its subsidiaries in the United States and other countries.
PCI Express is a registered trademark of the PCI-SIG.
All other product names are trademarks of their respective owners.
###
1 No computer system can provide absolute security under all conditions. Intel® Trusted Execution Technology (Intel® TXT) requires a computer system with Intel® Virtualization Technology, an Intel TXT-enabled processor, chipset, BIOS, Authenticated Code Modules and an Intel TXT-compatible measured launched environment (MLE). The MLE could consist of a virtual machine monitor, an OS or an application. In addition, Intel TXT requires the system to contain a TPM v1.2, as defined by the Trusted Computing Group and specific software for some uses. For more information, see intel.com/technology/security
Contact
TRENTON Technology, Inc.
Jim Renehan
770-287-3100
www.TrentonTechnology.com
Toll-free number in the U. S. at 1-800-875-6031

Contact
Multimedia
Trenton's WTM7026 motherboard is designed, built and supported out of the U. S. to provide maximum system performance and longevity in robust embedded computing applications. This motherboard uses extended-life, quad and six-core processors based on the Westmere-EP core.