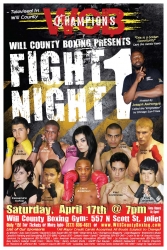 Joliet, IL, March 20, 2010 --(
PR.com
)-- Will County Boxing Show Fight Night I will be televised throughout Will County. Fighters include, Kassandra Ochoa, Jay Amphy, Lizeth Calderon, Adrian Palacios, Derek Drey, Juan Martinez, Erik Sanchez, Larry Anderson, Raul Contreras, and Elvis Cervantes- from Bolingbrook, IL. It will be some of the fighters first bout. Many community members came together to make this successful. Special thanks to Dr. Theodore Jefferson, MD. and St. Francis University. Sponsors include Senator AJ Wilhelmi, Nancy Schultz Voots, Hammes Family Dental, Bayardo's Auto Repair, La Hacienda Supermercado, Campillo's Painting and Remodeling, Daniel T. Hairstylist, Latin American Motorcycle Association, Calderon Liquors and TagGrafx. Live DJ, Food, and Entertainment. Tickets are priced at $15 (At the door tickets are $20) Doors Open 6PM First Bout starts at 7PM and the event ends at 9PM. Herald News calls this a "Golden Opportunity."
Tickets are available at The WCB Show Box Office located at 557 N Scott St, Joliet, Il 60432 www.willcountyboxing.com or by calling WCB 1.877.806.4611.
###
Joseph Awinongya- former prized professional fighter, named the "Ringmaster" by Chicago Sun-Times, is the owner/trainer of Will County Boxing Gym. He is helping many learn the art of boxing and is thankful to his former promoter Don King for giving him an opportunity to find his strengths. Now, he is giving that chance to many others. Will County Boxing Gym has over 400 members and offers boxing classes for every skill level. It is open to professional fighters, amateur boxers and boxing beginners. Mike Mollo, fighting March 26 at the UIC Pavilion with 8 Count Promotions, is currently training with Joseph Awinongya. Joseph Awinongya, a Ghana native, is based in Will County – Joliet, IL.
For more information, call 1-877-806-4611.