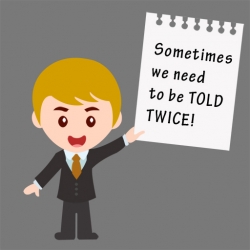 West Caldwell, NJ, March 22, 2010 --(
PR.com
)-- ToldTwice.com has released an iPhone application that allows parents to send reminders to their child's cell phone via free SMS text messages. The ToldTwice app is now available on the Apple iTunes App Store.
ToldTwice for iPhone was designed from the start as a tool for parents. The app allows parents to send standard reminders to any SMS capable cell phone at any future date and time. The iPhone application can help parents take full advantage of their child's messaging enabled phone and costly text message plans.
The ToldTwice iPhone app is unique in that it provides a set of popular pre-selected messages for parents to choose from. This provides an easy-to-use method for helping families to become more productive. The app can help parents to remind children about household chores, school work or curfews.
"ToldTwice.com has always been driven to help people use technology to make their lives better," said owner Brian Andrews. "Now, with our new iPhone application, we feel we are moving even closer to that goal. Parents, friends and family can use the application to simply and quick send a reminder--at the exact time that the user wishes. You can now remind your child to clean their room, be home on time, or walk the dog. We know parents are going to love the app."
The easy-to-use application is sold in the App Store for just $0.99.
###