Response to CPSC Baby Sling Warning & Media Coverage: for Infants of All Ages, Benefits of Safe, Correct Babywearing Outweigh Risk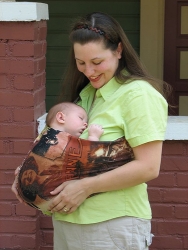 Syracuse, NY, March 23, 2010 --(
PR.com
)-- In response to the advisory published March 12, 2010, by the Consumer Product Safety Commission regarding baby sling safety, the nonprofit organization Babywearing International, Inc., called on consumer advocates as well as advocates for parent and child welfare to encourage safe babywearing for the benefit of babies and their caregivers. When worn correctly, baby carriers are safe, even for infants under four months of age, and babywearing provides important health benefits that extend far beyond the convenience of hands-free baby carrying.
"Slings are wonderful parenting tools when used properly and safely," said Lois Balster, MD, FAAP, IBCLC, a San Mateo, California pediatrician and a member of Babywearing International's board of directors. "Using a sling incorrectly is like using an infant car seat without proper installation, infant positioning, and restraints," Dr. Balster explained. "It is always important to position your baby safely in any carrier or infant-carrying device."
Babywearing International views babywearing as a skill that can be learned. Many volunteers across the United States and throughout the world are dedicated to helping mothers learn baby carrier safety and proper babywearing methods, said Glenda Criss-Forshey, MS. in Ed, a New York Inclusion Educator and the president of the nonprofit's board of directors. "As educators, we welcome the CPSC warning as an opportunity to better inform caregivers and the general public about how to use baby carriers safely, in ways that provide many benefits for both babies and their caregivers."
"A recent resurgence in baby carrier popularity has led to the interpretation that babywearing is a passing trend," said Crystal Eastburn, another member of the organization's board of directors, "but today's parents know that it's a beneficial parenting tool that has been practiced throughout history." Eastburn added, "anthropologists tell us that babywearing has made a contribution to the survival of humanity."
In Babywearing, The Benefits and Beauty of This Ancient Tradition, Maria Blois, M.D., reviews the scientific research that identifies the following attributes in babies that are kept close to caregivers. They:
· cry less
· are more calm and content
· sleep more peacefully
· nurse better and gain weight better
· enjoy better digestion
· develop better
Furthermore, research concerning kangaroo mother care shows that correct use of baby carriers can be particularly beneficial for premature infants who lack the amount of time in the womb that their full-term counterparts receive. "And anecdotally, we've seen that babywearing reduces postpartum depression and can reduce child abuse such as shaken baby syndrome," said Criss-Forshey.
Babywearing International advises caregivers to follow these positioning guidelines when carrying young infants in wearable carriers:
· Do ensure the baby's back and torso are well supported. Make sure the baby is not curled up such that his chin is pressed to his chest or his airway is otherwise compressed. Ensuring that you can put two fingers vertically between the baby's chin and chest is a good guide.
· Do carry babies how they would be held in-arms.Well-designed front baby carriers hold babies snugly against the chest and near caregiver's face ("Close Enough to Kiss").
· Do monitor the baby at all times. Make sure nothing obstructs the face or impedes breathing.
· Do be aware of movements and surroundings. In general, don't do something while wearing a child that shouldn't be done while simply holding them. Avoid heat sources, bumping and jarring motions, and other hazardous situations.
###
About Babywearing International, Inc.:
Babywearing International, Inc. is a nonprofit organization founded in 2007 to promote babywearing as a universally accepted practice, with benefits for both child and caregiver, through education and support. For more information about Babywearing International, and to view more about babywearing safety, visit www.babywearinginternational.org.
Contact
Crystal Eastburn
(417)840-3608
Glenda Criss-Forshey
info@babywearinginternational.org

Contact