"Brave New World": Military Khakis Become Edgy 'Green' Styles, Stylishly Hot Designs Fit Women of All Sizes
EM & Co Fashion Installation Launches Collections from Angela Dean and EM Reconstruct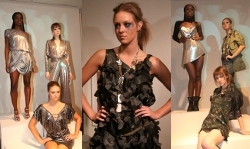 Los Angeles, CA, March 24, 2010 --(
PR.com
)-- EM & Co's Fashion Installation portrayed a 'Brave New World' for the new decade, on March 18, 2010, with statuesque models and a custom-mixed music overlay of opera and punk, as it celebrated the re-launch of EM Reconstruct's mini-collection showing how military khakis can be fashionably 'green', and Angela Dean's ready-to-wear collection which proved that looking stylishly hot is not size-exclusive.
Angela Dean's futuristic silver jersey dresses and vintage-inspired brocade coats are designed to flatter all body shapes and types. The store-exclusive EM Reconstruct label showed edgy military-inspired looks re-constructed out of recycled army clothing by EM and Krys-N-Jack.
"It's a brave new world this new decade, fashion-wise," says Eveline Morel, EM & Co founder. "Designers have to brave the economic situation, think outside the box, and deal with changing consumer trends, growing eco-consciousness, and a growing demand for cutting-edge fashion that fits women of all sizes and body types."
The EM Reconstruct label represents the latest trend in eco-conscious fashion: up-cycling of garments. Combining edgy trend-setting style with eco-friendly practices, existing garments are re-fashioned and modified, sometimes beyond recognition, into new garments. Each garment is individually created, no two garments are ever identical. EM Reconstruct releases a themed mini-collection each quarter, created by EM and other local designers.
Angela Dean, celebrity designer, whose loyal following from Hollywood's top celebrities fashioned a reputation as a 'best-kept fashion secret', and whose client roster includes Halle Berry, Queen Latifah, and Jada Pinkett Smith, launched a new ready-to-wear collection of cleverly-designed pieces that easily adapt to any shape and body style.
The "Brave New World" Fashion Installation is part of EM & Co's "Up Next: L.A. Designers" series, showing during L.A. Fashion Week for the past 7 seasons. EM & Co, a West 3rd Street boutique, supplies fashion-conscious shoppers with a well-orchestrated mix of fashions from world-class designers (i.e., Vivienne Westwood, Missoni, Stella McCartney), as well as innovative styles from emerging L.A. talent. Featuring over 30 lines from around the world in its gallery-like space, EM & Co is also an active supporter of local talent, hosting monthly art exhibits and other events featuring local artists and designers. For more information on upcoming events and designers: www.emandco.com.
###
Contact
EM & Co
Eveline Morel
323.782.8155
www.emandco.com

Contact