Chucho and Palomita Clothing is Up for Grabs at Wal-Mart
New Young Men's and Juniors Latino Clothing Lines Launch and Ready for Success.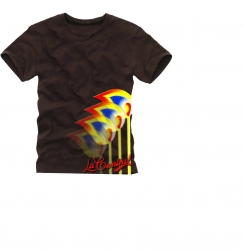 San Rafael, CA, March 24, 2010 --(
PR.com
)-- Chucho® and Palomita, two new young men's and junior clothing brands with a focus on the Latino market, will launch at select Wal-Mart stores across Arizona and California, as well as a few stores in Texas. The brands will be available in the young men's and junior departments during the first week in March. Chucho, as well as Palomita, will make their debuts with a selection of original and vintage designed tees including the iconic brands Roma, Casa Luker, Lulu, and La Central. Palomita and Chucho anticipate making their presence in this underserved sector of the fashion market with a fresh and relatable approach. The brands designs have a broad appeal and are unique and representative of cultures across Latin America.
"Por fin una marca para ti" Finally a brand for you, is the tagline for Chucho® and Palomita. The brands were created by Molly Robbins, "Molona" a Mexico City native as well an apparel industry veteran. She has secured exclusive rights to use trademarks and vintage art from an array of Latino companies as well as creating her own original designs. Chucho and Palomita incorporate these colorful graphics providing a platform for individual style. Chucho® and Palomita are manufactured by DLI, Inc. and are distributed by West Coast Novelty Corp. For more information about Chucho and Palomita visit
www.palomitaclothing.com
.
About DLI Inc.
DLI Inc. and TSC Apparel have formed an alliance to embrace the ever changing global market. DLI, based in Georgia, is the marketing and merchandising arm while TSC is responsible for all the procurement, processing, financial and operational programs. This alliance has further strengthen DLI's design performance by providing extremely competitive costs for procuring and finishing product in the US as well providing additional sourcing capabilities throughout the world.
About West Coast Novelty Corp.
West Coast Novelty (WCN) is the largest distributor of licensed products in the United States. Based in Alameda, CA they have exclusive relationships with NFL, NBA and MLB making them a valuable resource for any retailers that sell licensed sport products.
###
Contact
Palomita Clothing
Warren Robbins
415-507-1596
http://www.palomitaclothing.com/events

Contact