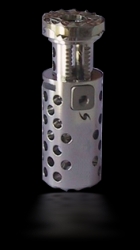 Lake Mary, FL, March 26, 2010 --(
PR.com
)-- Eden Spine, a Florida based Medical Devices organization focused on developing the latest generation of spinal technologies, is pleased to announce that the Patent for its corpectomy device, the GIZA™, was granted from the European Patent Office.
"The GIZA™ allows Eden to provide surgeons with a safe and versatile vertebral body replacement option to replace a collapsed, damaged or unstable vertebral body due to tumor or fracture" says Mourad Ben Mokhtar head of Eden Spine's research and developments efforts. He adds that "the technology is available for cervical, thoracic and lumbar applications, is compact, preassembled to save valuable OR time, expandable in situ, and provides large surface contact area to decrease the risk of subsidence."
"This patent marks a milestone in building our fusion portfolio," stated Guillaume Viallaneix, CEO. "This broadened IP is another step toward accelerating business development in the U.S. and around the world," Mr. Viallaneix added.
Eden Spine has made substantial progress in developing its IP portfolio. Patents have also been granted for the company's highly differentiated Artificial Disc and Transforaminal Lumbar Interbody Fusion device. Others are currently pending.
###