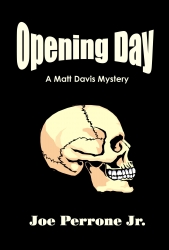 Hendersonville, NC, October 27, 2010 --(
PR.com
)-- Joe Perrone, Jr. of Hendersonville, NC, recently signed a three-year contract to be represented by a German literary agency, Interpill Media, which plans to present the author's work to German language publishers throughout Germany. The hope is that all of his mystery thrillers will appear in the not-to-distant-future in the German language.
His new mystery, Opening Day, has Matt Davis taking early retirement, and accepting what appears to be a cushy position as Chief of Police of a three-man department in a small, rural Upstate New York village. While out fishing on his favorite stream on the opening day of trout season, he stumbles across the remains of an apparent murder victim. With no clothing, no identification--and, no clues, it's up to Matt to not only find the murderer, but to identify the victim as well.
Opening Day is available both in
paperback
($14.95) and in Kindle ($3.99) on Amazon.com.
###