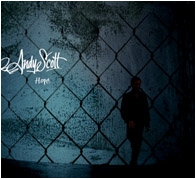 New York, NY, April 18, 2010 --(
PR.com
)-- Hope is the follow-up to Andy Scott's critically acclaimed Don't Tempt Fate, and its 10 songs-an intoxicating emotional wallop, are written and produced by the New York-based artist. Hope refines that album's take on Andy's sophisticated blues-tinged, after-hours vocal jazz, he's gone even deeper.
Hope features Andy on vocals and piano, Noriko Ueda on bass, Jon Herington and Chieli Minucci on guitars, Tony Kadleck on trumpet, David Mann on saxophones, Dan Aran on drums and Cafe on percussion.
From its opening track, "Learning to Fly," the poignancy of Andy Scott's newest music becomes immediately evident. The buoyancy of its melody, Andy's upbeat vocal and its lyrics of resilience belie the reality of the song's roots in Scott's mother's long-term illness. "I turned (the sadness) into a song of hope," he says, establishing the album's theme, "and it became poetry. It reflects the feeling of a parent seeing their child trying something new on the swing set all by themselves and maybe falling a couple of times."
Both "Love and Pain" and "Far," the next two tracks, are "a bit edgy," says Andy. He reveals that he drew some inspiration for these and other tracks on Hope from the late jazz singer and trumpeter Chet Baker. "Chet would take his time with a melody," says Andy. "He'd slow something down. And he was always talking about love. The thing I like about Chet was he was always perfectly broken. There was a tragic beauty in him, in the way he played and sang a tragic poetry in his expression that I love."
On the melancholy "Nowhere to Go," the singer, in his smoky, late-night tone, "is talking about a memory," says Andy. Next up in the title track, "Hope," which, ironically perhaps, is rendered as an instrumental-no words are needed for the positivity to shine through. "Look At Me," explains Andy, emerged following an evening when he returned to an old, familiar haunt only to discover the only thing really familiar about it was the décor-everything else had changed. But like many of Andy's songs, there's a silver lining to the story: "I had a life, I had everything/Then love came along, now look at me," he sings, his bluesy piano chords and the guitarist's silky riffs the perfect complement to his cozy vocal.
"Surrender" features soaring saxophone licks from David Mann (who has played with Sting, Pat Metheny and many others), and is followed by "Until Then," Andy's favorite song on Hope. "I just really like that I captured what it was like waiting for someone you love who doesn't love you yet or doesn't know you love them," he says. "I started tripping out on a guy who loves his girl and the only place that he can really be with her is in his dreams." On "Springtime Blossoms," a song inspired by his late mother, Andy explores the purity of renewal: "Mother Nature takes good care of her children everywhere/every time the seasons change, thoughts remain," he sings. That track and "Far" provide a showcase for the expressive trumpet of Kadleck, whose work has graced recordings by Frank Sinatra, Michael Jackson and many others. The album ends with a reprise of the tune that started it, "Learning to Fly," this time as an instrumental.
Prior to the recording of Hope and Don't Tempt Fate before it, Andy Scott released several albums under the uni-moniker of Goat, in a more rock-oriented sound. Although he received quite a bit of recognition during that stage of his career, and may yet revisit it, Hope, he says, is reflective of his present artistic leanings. "I want to perform on grand pianos and take an acoustic approach," he says.
Don't Tempt Fate opened up new worlds to Andy-among those championing his new sound was the popular jazz singer Madeleine Peyroux, who contributed vocal, ukulele and guitar to that 2008 album and invited Andy to open some of her shows. Andy's songs have also been used in several television programs (including CSI and Weeds) and films (I Know What You Did Last Summer, Dinner Rush).
Hope, says Andy is "an expression of where I was when I wrote and recorded these songs. My heart and soul are in every song and every word on the record." That much becomes ever more obvious with each new listening.
Visit / Listen / Buy -
www.andyjazz.com
###