Condon and Collana Bring Unique Talents to Broaden Service Offering at Staple Salon, "Corto's" in Hamburg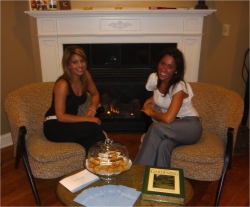 Hamburg, NY, April 23, 2010 --(
PR.com
)-- After a slew of changes in relocating, management, hiring new staff, and revamped promotional initiatives, Corto's Salon and Seasons Spa announces a series of innovative product and service additions that are now available to the public.
Corto's has tapped two talented technicians to offer clients some of the most fashion-forward products available in today's beauty market, including Minx Nails, Novalash Eyelash Extensions, Hair Extension Services, and the very popular Aveda Haircare and Makeup lines, which will launch this May, 2010.
Kelly Collana, who is dual-licensed as a nail technician and esthetician, is now offering Minx nail services and Eyelash Extensions by Novalash. She began offering Minx immediately after the salon's grand opening event last November, 2009.
Minx, which have been seen on celebrities like Beyonce Knowles, Christina Aguilera, and Mariah Carey, finally gives women completely customized nails that can feature the exact pattern and colors of their favorite new outfit. The Minx service offers sparkly metallics, personalized graphics and photo-quality designs that are currently unavailable in the market. Additionally, Minx is not a liquid and no hazardous chemicals are used in its application. Although Corto's has some basic selections in stock, clients are urged to create a customized look by selecting their design in the design gallery on minxnails.com. Custom appointments, however, must be made two weeks in advance.
More recently, Corto's partnered up with Novalash (www.novalash.com) last month to offer the eyelash services after attending the International Beauty Show in New York City. This move comes after receiving frequent requests from clientele, and in part from Kelly's unique talent to demonstrate extreme precision during application which is critical to maintaining the lashes endurance. So far, clients have been extremely satisfied with the length and comfort of their lashes, which are expected to last up to 3 months.
In addition to Minx and Novalash products, recent hire Kaitlin Condon, a dual-licensed hair stylist and nail technician and newcomer to the Buffalo area from North Carolina, gives Corto's a certified Aveda Educator on board. Her addition helped solidify the decision to bring on the popular hair care and makeup lines (www.aveda.com). "She brings a depth of knowledge to our entire staff about the product line's benefits to enhance our clients beauty outside the salon on a day-to-day basis," says owner Dominic Corto. "We are excited to be working with Aveda to offer our customers a more natural and environmentally-friendly product alternative for our hair and makeup lines. Kaitlin will make this transition that much easier."
Kaitlin also fills a gap in the former service offering by her ability to perform fusion hair extensions on clients. Hair extensions have been popularized by notable celebrities such as Jessica Simpson, Victoria Beckham, Carrie Underwood, and Miley Cyrus, and allow customers to add length and volume but maintaining a natural look. These offerings are now a reality at Corto's, who urges clients to set up a consultation prior to booking this service. For more information regarding products and services, please visit
www.cortosalons.com
###
Contact
Seasons Salon and Spa by Corto's
Nicholas Corto
716-648-3120
www.cortosalons.com

Contact