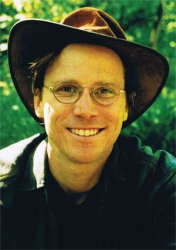 Yellow Springs, OH, April 28, 2010 --(
PR.com
)-- Eric Wolf (Brother Wolf) will be presented with the Oracle Award in recognition of his work as producer and host of the Art of
Storytelling
with Brother Wolf Show during the last evening of the National Storytelling Conference on July 31st, 2010 in Los Angeles, California. The
National Storytelling Network
(NSN) gives the Oracle Award for Distinguished National Service to individuals who contribute their time and energy in an exemplary manner on the national level.
The National Storytelling Network is dedicated to advancing the art of storytelling – as a performing art, a literacy tool, a cultural transformation process, and more. NSN is a member-driven organization and it offers direct services, publications and educational opportunities to several thousand individuals, local storytelling guilds and associations. These services are designed to improve storytelling everywhere — in entertainment venues, in classrooms, organizations, medical fields, families, and wherever storytelling can make a contribution to quality of life.
The Art of Storytelling with Brother Wolf Show has had over 127,000 downloads since it began podcasting in 2007. Created by Eric Wolf (Brother Wolf) in the spring of 2007, the show brings the best and brightest of the storytelling community to the world stage. 45% of listeners are from outside the United States from over 100 different countries. In the last six weeks the show has sustained over 7,000 individual downloads.
The Art of Storytelling Show is the world's sole interview format show dedicated to exploring the art and science of storytelling in all its forms. With over a hundred interviews available for listening to online this podcast has become the premier resource for understanding and learning the art of storytelling worldwide.
Eric Wolf has brought storytelling to the Smithsonian, the American Museum of Natural history in New York City and Columbia University.
To see a complete list of…
Press releases detailing the growth of the
Art of Storytelling
Show go to:
http://www.artofstorytellingshow.com/category/press-release
Guests organized by topic:
http://www.artofstorytellingshow.com/topics
NSN Oracle Award for Distinguished National Service:
http://www.storynet.org/programs/awards/distinguishedservice.html
Eric Wolf's home page:
http://www.ericwolf.org
Contact: Karin Hensley NSN
Phone: 1-800-525-4514 ext 303
###