Mango Madness Skin Care Introduces Sunless Tanner
Mango Madness Skin Care announces a paraben free self-tanning product to help customers achieve a great tan without the aging effects of sunlight.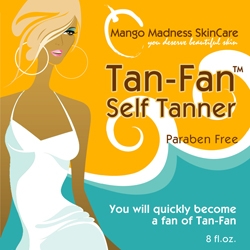 Saint Augustine, FL, May 03, 2010 --(
PR.com
)--
Anti-aging product retailer Mango Madness Skin Care
has introduced a new sunless tanner under the brand name Tan-Fan™.
Sunless tanning products have gained popularity as the hazards of traditional sun tanning have become more evident. Paraben-free products are also gaining popularity as consumers learn about the health risks associated with parabens.
"Sunlight causes about 80% of the skins aging," said Laura Myers, president of Mango Madness Skin Care. "There is no thing such as a healthy suntan. When your skin turns color from the sun, it has been damaged. A tan looks great, but be smart about it – use a sunless tanning product."
Mango Madness Skin Care specializes in anti-aging skin care products to reverse or slow down the effects of aging on skin. "We are all about helping our customers look younger," Myers said. "As a logical complement to our anti-aging skin care line, we decided to help customers prevent wrinkles in the first place, so we introduced Tan-Fan as a paraben-free self-tanner."
Mango Madness Skin Care minimizes wasteful packaging and shuns the use of potentially harmful ingredients such as parabens. The company's skin care products contain no fillers or fragrances, which can irritate skin, and it performs no animal testing.
Mango Madness Skin Care is headquartered in Saint Augustine, Fla. It offers free shipping on all online orders from its warehouse and fulfillment center at www.MangoMadnessSkinCare.com. The company's retail store is located in the Historic District of Saint Augustine.
###
Contact
Mango Madness Skin Care, Inc.
Gary Myers
352-318-1711
http://www.MangoMadnessSkinCare.com

Contact