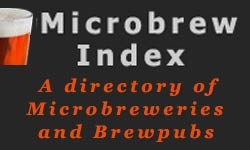 Stanberry, MO, May 10, 2010 --(
PR.com
)-- The recently launched Web site Microbrewindex.com introduces a new concept to craft beer lovers and Web surfers everywhere—the first dedicated Internet pub crawl planning experience. On this new site dedicated to hand-crafted-beer aficionados and curious newcomers alike is an extensive
list of microbreweries and brewpubs
.
Beer-related indexes are not new, but one dedicated primarily to the art of the microbrew is. "There are a number of different microbrewery and brewpub listing sites but the majority are part of a larger beer site or blog," said Site Creator Richard Harkrider. "This index was developed to create an organized and search-able resource exclusively for microbreweries and brewpubs. Whether planning a night out to enjoy some food and good beer, a weekend adventure or a craft beer vacation MicroBrewIndex.com is a great place to help in making those plans."
The directory itself is extensive with over 1500 listings throughout the United States, Canada and Australia. Additional microbreweries and brewpubs are added frequently and there are plans to expand to other regions. When exploring the listings, users can see pictures of many of the pubs and breweries while also reading user reviews, ratings and descriptions. Each listing also provides visitors with the pub or brewery's address, phone number and a link to their Web site.
Part of the Internet pub crawl planning experience offered by MicrobrewIndex.com is delivered by the on-site articles related to the brewpub experience. These articles explore the various offerings of microbreweries and educate readers about the taste, availability and process of creating these distinctly different brews. The Internet pub crawl planning opportunities offered by the Microbrew Index allows Web crawlers to anticipate all the sights and sounds of many microbreweries or brewpubs. To build your own internet pub crawl, visit http://www.microbrewindex.com.
About MicrobrewIndex.com
MicrobrewIndex.com is a Web directory of microbreweries and brewpubs throughout the world with the goal of providing a useful categorized and search-able directory of microbreweries and brewpubs. The site offers both paid and free listing options for those interested in being listed. While you are there you can also find user reviews, pub and microbrew ratings, and articles that inform and entertain the craft-beer-loving set.
###