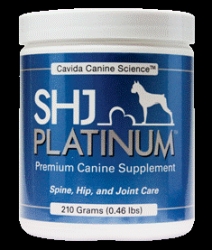 Cincinnati, OH, May 13, 2010 --(
PR.com
)-- According to research by Dr. Ali Hasaan (Shrader Veterinary Clinic), some 70%-80% of all dogs suffer from spine, hip, or joint pain at least once in their life (Shrader Veterinary Clinic researcher. And, yet, many pet parents know little about what they can proactively do to minimize their dog's exposure. A quality joint supplement, given to a dog daily could have major long term benefits.
SHJ Platinum, takes "quality" to a new level. This dog joint supplement has 12 active ingredients - more than virtually any joint supplement you can find in your local pet store, including Cosequin DS and Cosequin Bonelets Plus. SHJ Platinum offers an outstanding guarantee to go along with its impressive proprietary blend - a total of 90 day risk-free trial.
Cavida Canine Science developed SHJ Platinum with one idea in mind: create a proprietary blend of vitamins and minerals shown through external research to be beneficial to dog spine, hip, and joint (SHJ) health. And, ensure that there are substantial levels of each ingredient so that a dog can receive maximum benefit from the supplement.
The company knows all too well about the anguish that pet parents of senior dogs endure when watching their pets suffer. The founder of the company, Lisa Marzett, was inspired through her own experience. "At 7 years old, my dog, Abby, began to suffer from interveterbral disc disease and arthritis," Lisa states. So, she worked with scientists to create what she calls, the "ultimate" SHJ supplement. "Most everyone that works for Cavida Canine Science has had similar issues with their dogs and has seen very positive results with SHJ Platinum. It makes selling the product much easier when you have a staff that knows the benefits first-hand."
SHJ Platinum comes in powder form, which serves two purposes: 1) powder has been proven in external research to be absorbed by the body faster than pills or tablets; 2) it addresses a key concern that many pet owners have with most pills– getting their dogs to willingly take it. A powder can easily be mixed with a dog's food.
Cavida Canine Science donates 10% of all proceeds from SHJ Platinum to Senior Sanctuaries – non-profit organizations that take care of abandoned senior dogs that may have otherwise been euthanized in shelters.
SHJ Platinum offers a 30 day free trial if you sign up for their monthly home delivery program (just pay $7.95 S&H). In addition to the 30 day free trial, there is an additional 60 day money back guarantee, making it a total of 90 days virtually risk free. You can order your free trial or find out more information on the supplement at www.shjplatinum.com or call their Customer Care center at 800-382-7350.
Cavida Canine Science has also launched a website with free articles, videos, and other information related to dogs with SHJ issues. The website, www.canineshj.com, also offers SHJ Platinum supplements as well as orthopedic dog beds, first aid/pain relievers, travel accessories, and many other products.
About Cavida Canine Science:
Cavida Canine Science mission is to provide resources that, ultimately, will improve the quality of life for dogs suffering from SHJ issues and empower their pet parents with knowledge to create a positive environment for their suffering pets.
###