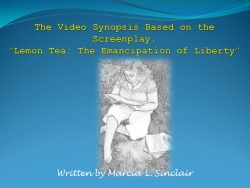 Chicago, IL, May 16, 2010 --(
PR.com
)-- Marcia L. Sinclair is known for taking risks and has selected a non-traditional approach to marketing her award-winning screenplay, "Lemon Tea: The Emancipation of Liberty." First, she created a fan-base supporter's network (
www.lemonteathemovie.ning.com
) and now, Coffee, Tea and Me, Inc., in association with Chosen Generation Studio and Films, has produced the first ever video synopsis of a screenplay. Sinclair used this unique format to introduce the world to her critically acclaimed script that is heartwarming, humorous and best of all, family friendly. You can view the video synopsis of the screenplay on YouTube at
http://www.youtube.com/watch?v=cYVooL-_ghg
.
The story is set in the all-negro town of Mound Bayou, MS during 1970.
The synopsis is told in the voice of the main character, young Liberty "Libby" Ewing, who is ashamed of her dark skin until she discovers from a newcomer that beauty comes in a myriad of shades but the beauty that lasts forever comes from the heart.
A core group of dedicated supporters work tirelessly to increase the number of people willing to join the grassroots effort to get the screenplay produced. The global support of "Lemon Tea: The Emancipation of Liberty" comes from people all over the United States and in countries as far reaching as India and Australia.
For more information on how you can support the goal of producing this screenplay, please contact Nina-Sinclair Burns, Executive Producer at (708) 539-7130.
###