Text Expander for Windows and Mac
Bartels Media GmbH has released an update of the free Text Expander, "PhraseExpress" that now supports import of the Mac software 'Text Expander.'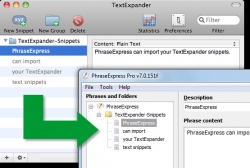 Trier, Germany, May 26, 2010 --(
PR.com
)-- PhraseExpress is a
Text Expander for Windows
that can manage frequently used boilerplate templates and can expand text shortcuts into longer phrases. PhraseExpress provides this feature as known as 'Autotext' to all Windows programs.
SmileOnMyMac Text Expander is one of the most popular equivalents on the Apple Mac platform. PhraseExpress can now import text snippets from 'Text Expander' to provide a cross-platform Autotext solution. PhraseExpress translates and supports all specific macro functions of Text Expander, including nesting and linking of text snippets, insertion of the current time/date, insertion of the current clipboard's contents or additional manual text input.
Microsoft has certified PhraseExpress for use with Windows 7. PhraseExpress Version 7 also runs under Windows XP/Vista, both 32- and 64-Bit operating systems. The separate Network Edition allows for the shared use of text blocks for multiple users within a corporation.
PhraseExpress can also immediately take notice of the entry of calculations within running text. The program replaces word entries such as, "That costs 14.50+49.95=" upon desire with "That costs $64.45" and therefore saves tiresome act of transferring between word processing and calculator.
Free for personal use
The update is free for all personal users and customers of the latest version. Commercial users have the choice of three different program variations, starting at US$39.95.
Contact
Bartels Media GmbH
Judith Reiff
+496519991950
www.bartelsmedia.com

Contact