Douglas Newton Combines Painting Exhibition with CD Release Concert at Blue Moon Gallery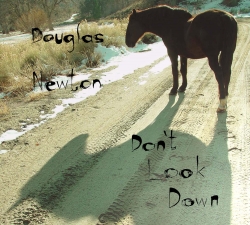 Sacramento, CA, May 28, 2010 --(
PR.com
)-- Local songwriter Douglas Newton will release his long awaited CD, "Don't Look Down" on June 26th at the Blue Moon Gallery in Sacramento. The music belongs to the art-song tradition of musicians such as Leonard Cohen, Joni Mitchell and Bob Dylan. The CD has been 5 years in the making.
"Newton's songs stick with you. Their poetic density speaks to a part of your life and expands your perspective on love, nature or of music itself. I am happy these songs have been recorded so well," says writer Scott Ezell. This long-awaited CD project began in 2005 in Hualien, Taiwan, where Newton was living at the time, teaching in prison, working for a bilingual magazine, hosting a radio show and playing music with the band Fireflower.
After Newton performed several gigs at The Blue Moon Gallery, owner Carol Brewer decided to launch the CD release party at the gallery, two weeks after the 2nd Saturday opening of Newton's visual artwork (June 12th). "I just love this music. These songs have earthy, meaningful lyrics that stand apart in a time of musical trivialities. The paintings call to mind his time in Taiwan and speak of how cultures intersect. They combine jazz improvisation with traditional Chinese esthetics." Newton will follow up the Blue Moon shows with a solo exhibition of his paintings at Bogle Vineyards, on July 17th.
In the June 2010 issue of Sacramento Magazine, Jan Ferris Heenan calls Newton "A 21st-century Renaissance man." Read more about Douglas' artwork here: http://www.scottezell.org/?page_id=115
###
Contact
Douglas E Newton
916 201-7506
www.douglasenewton.com

Contact
Multimedia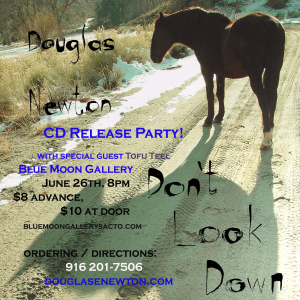 Please join them at the Blue Moon Gallery in Sacramento for the CD Release party of Douglas Newton's "Don't Look Down."