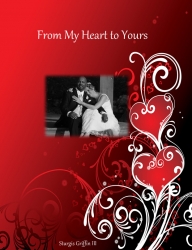 Tampa, FL, June 03, 2010 --(
PR.com
)-- These accounts are based on events leading up to Sturgis' mitral valve repair surgery. He encapsulates what his family was experiencing as well as his own experience, during this time. So many times individuals are unprepared for what comes next in the events that are about to unfold in their lives, fear, uncertainty, pain or sometimes loss. The hope is that this helps anyone who may be going through this or any other surgery, from the individual, spouse or families experience point of view. It's the unknown that makes us fearful of what is to come. Life is truly short, and we are all blessed to have been given this gift. Make your path in life your own, but most of all on your journey travel through it and enjoy your life with whomever you love.
From my heart to yours is available for sale at lulu.com and other channels.
Lulu.com: Lulu.com is the premier marketplace for digital content on the Internet, with over 300,000 recently published titles, and more than 4,000 new titles added each week, created by people in 80 different countries. Lulu is changing the world of publishing by enabling the creators of books, video, periodicals, multimedia and other content to publish their work themselves with complete editorial and copyright control. With Lulu offices in the US, Canada the UK and Europe, Lulu customers can reach the globe.
About the Author: Sturgis Griffin III works in IT in Tampa, FL. He lives in Tampa with his wife and sons. Sturgis says, "Only a few years ago I would have never dreamed that I would actually have found the time to create and publish this book. My dream is that I am able to give back to the community through the heart association not only here in Tampa, but to the overall research associated with heart disease."
His book can be found at http://www.lulu.com/product/paperback/from-my-heart-to-yours/10919642
Media Contact:
Sturgis Griffin III
E-mail:
Sturgis.griffin@gmail.com
Phone: (813)785-3092
Web:
http://stores.lulu.com/store.php?fAcctID=49414981
Review Copies And Interviews Available
###
The views and opinions expressed in this press release do not necessarily represent the views and opinions of PR.com or its affiliates.