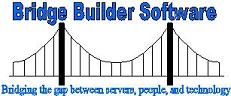 Fargo, ND, June 03, 2010 --(
PR.com
)-- Bridge Builder Software, Inc. is pleased to announce the latest release of BBS.GreatPlains Integration v9.5 for the Microsoft Dynamics GP ERP system.
BBS.GreatPlains Integration provides seamless, transacted, easy to use integration points that consume or compose Dynamics GP data. BBS.GreatPlains Integration is the only 100% .Net integration solution; built from the ground up in .Net it is the only integration solution that dynamically adapts to the GP tables. The BBS.GreatPlains Integration does not use stored procedures and out performs Microsoft's eConnect.
BBS.GreatPlains Integration v9.5 introduces new features and added functionality to existing integration points. We have also released a 64 bit version that utilizes 64 bit technology and performance. You now have a choice to install either a 32 or 64 bit integration solution.
IT Staff and Consultants can provide in-house solutions in less time than your current integration solution. Maintenance time and cost is also reduced considerably when you use the BBS.GreatPlains Integration.
The latest integration release includes the BBS.GreatPlains.WebService allowing controlled fundamental access to your data outside or inside your firewall. This release also includes a windows Consume service that allows FTP file drops to be picked up, transformed and processed in a timely manor.
The BBS.GreatPlains Integration and Framework has proven to be more reliable, more stable, easier to develop with, faster to deploy, and out performs eConnect.
Bridge Builder Software is a privately owned company that has been developing integration and migration software for the past five years; providing the only integration for Dynamics GP written entirely in .NET and the only migration product for Dynamics GP capable of migrating to Master, Open and Historical tables. Bridge Builder Software also provides consulting services. For more information about BBS.GreatPlains Integration and Bridge Builder Software please visit www.bridgebuildersoftware.com.
Dynamics GP and eConnect are trademarks of Microsoft corporation.
###