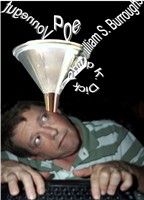 Jacksonville, FL, December 06, 2006 --(
PR.com
)-- German readers can now experience what has been described as "Nine high voltage doses of mystery, science fiction, and the bizarre, with alternating currents of vision and satire." The book, Time Adjusters and Other Stories by Bill Ectric, (iUniverse, 2005), has been translated into German by Erni Bär, a Hamburg artist who calls his style "DharmaDada" to reflect his dual passions for Tibetan Buddhism and the Dada art movement .
Bär says, "I found American writer Bill Ectric from Florida by chance on the web and immediately purchased his book…he has a very readable and vivid structure…and quickly gained my respect as a writer!"
The book's German title, Kerouacs Rolle, is from one of the other stories in the collection, Cut Up (The Stolen Scroll), which is a fictional tale about the theft of a Jack Kerouac manuscript and a secret message that turns deadly when subjected to poetic cut-ups in the style of William S. Burroughs.
Time Adjusters is about insurance companies that use a new light-bending technology to capture scenes of future disaster areas, thus unfairly denying coverage to people in those locations.
Kerouacs Rolle, in German, is available from Lulu.com.
Time Adjusters and Other Stories, in English, is available from Barnes & Noble, Amazon.com, Books-A-Million, and the online bookstore of the publisher, iUniverse, which owns the American printing rights.
###